After Caping For Trump, Kanye West Joins Black Lives Matter Protest In Chicago
Yesterday, he also donated money to the families of George Floyd, Breonna Taylor and Ahmaud Arbery.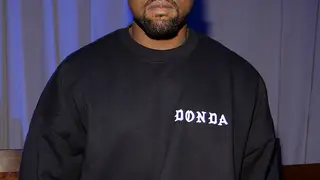 Just hours after news broke of his donation to the families of George Floyd, Breonna Taylor, and Ahmaud Arbery, Kanye West joined a march in his hometown of Chicago on Thursday (June 4).
The appearance was a surprise to many given his support for Donald Trump and calling slavery a choice.
Video clips surfaced online showing the Chicago native walking alongside protestors through the streets of the city's South Side. In one of the clips, the "Jesus Is King" rapper is shown near the front of the procession, although it's not clear how long he stayed.

Yesterday, students and community members marched from the Grand Boulevard neighborhood to the Chicago Police Department headquarters, according to local news station NBC 5 Chicago, in protest against the Chicago public school system's contract with the Chicago Police Department. The rally was organized by activist Ja'Mal Green and several other individuals.

"We're doing this because we need the CPD out of our schools," organizer Jalen Jobayashi told NBC 5 Chicago. "We live in an over-militarized, over-surveillance state. We are living in a state where police are out here killing out kids on their way to and from school."

West's appearance at the Chicago protest comes after his reps confirmed to TMZ that he's pledged $2 million to establish a college fund for George Floyd's six-year-old daughter, Gianna, as well as help cover legal bills for Floyd, Taylor  and Arbery's families. In addition to that, he's directing funds toward helping struggling Black-owned businesses in Chicago.

BET has been covering every angle of George Floyd's death in police custody, other social justice cases and the subsequent aftermath and protests. For our continuing coverage, click here.