Will Smith Hints at Regrets Over Pushing His Kids Into Show Business
The Academy Award winner recalls the poignant lesson he learned from his daughter Willow.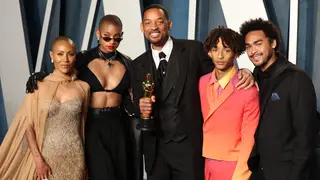 Will Smith is opening up about his not-so-proud dad moments.
During a recent episode of Kevin Hart's Peacock series "Hart to Heart," the Academy Award-winner and father of three shared his regret over pushing his children, Jaden and Willow Smith, into the entertainment industry.
"2010 was like the greatest year as an artist, as a parent. 'Karate Kid' came out in June, 'Whip My Hair' came out in October," the veteran Hollywood star recalled. "I'm building this dream of a family I've had in my mind." Smith said he said to himself: "I'm going to do it better than my father did it."
"Nobody in my family was happy," Will admitted. "No one wanted to be in a platoon. Willow was the first one to begin the mutiny and it was my first realization that success and money don't mean happiness. Up until that point, I really believed that you could succeed your way—to a house and a family—and you could win your way to happiness."
The "King Richard" star shared that after seeing how unhappy his children were, he realized: "Material circumstances do not equal happiness and, in a lot of cases, they can be the reason you're not happy."
He added, "You can have so much stuff that it makes you miserable," before adding, "That was my first pull-back and I was like, 'OK, what am I missing?'"
The "Emancipation" star and his wife, Jada Pinkett Smith, recently honored Jaden with several heartwarming social media posts to celebrate the rapper and actor's 25th birthday.
Smith shared a beautiful black and white photo of him wrapping his arm around Jaden's neck as they looked at a piece of paper. He captioned the post, "Happy Birthday, J-Diggy. It's crazy that you're 25?!?!." He jokingly added, "When I was 25 I had a 2 yr. old… I'm just sayin'… Wha's up? What you doin' over there?"