Office of Minority Health Seeks to Improve Black Lives
During National Minority Health Month, BET.com looks at a department within the federal government that has existed since the 1980s, but it has taken on new vigor in recent years.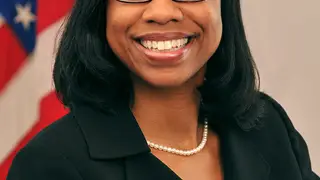 J. Nadine Gracia (Photo: Health and Human Services Department/ Official Portrait)

It is an office within the executive branch of the federal government that is little known, but the Office of Minority Health has been playing an active role in raising consciousness about health disparities while helping to educate millions of Americans to live healthier lives.
The office was established in 1986, during the administration of President Ronald Reagan. But the office, which is part of the United States Department of Health and Human Services, has been particularly busy during the presidency of Barack Obama.
The office works with federal and state agencies to develop policies and practices that help advance health among minorities, who have traditionally lagged far behind white Americans in health patterns.
"We also are able to fund projects in communities that are working to address health disparities and improve minority health," said J. Nadine Gracia, the director of the Office of Minority Health, in an interview with BET.com.
"We also help to advance and set policy that will help to improve the health in minority communities," said Gracia, who also served as deputy assistant secretary for the Department of Health and Human Services.
One of the most successful campaigns, she said, has been in curbing the disparity in infant mortality, which has long had far higher rates in the African-American community. Through a program called "A Healthy Baby Begins With You," the office has trained more than 2,000 college students to serve as counselors to go into communities and discuss the importance of health conscious lifestyles for women who are pregnant, she said.
"The program takes place on more than 90 colleges, including historically Black colleges and universities," Gracia said, adding that the lead spokeswoman for the campaign is Tonya Lewis Lee, the wife of filmmaker Spike Lee.
"We see a greater awareness and we see that among students, many become leaders, health ambassadors and then pursue education in public health," Gracia said.
Another area where the office has been particularly involved is in assisting people who emerge from prison and are diagnosed with HIV. The program is known as HIRE, which stands for Health Improvement for Reentering Ex-Offenders.
"We help them to be able to re-enter their communities and have a successful reentry," Gracia said, explaining that HIV rates have long been highest in the African-American community.
"We assist them by providing assistance for having a place to live, education and ways to deal with suffering from substance abuse," she added. "The program is in place in New York, Florida and Texas. They were chosen because they have the highest number of ex-offenders with HIV in the country."
A pediatrician by training, Gracia has served in academic medicine and government for several years. From 2010 to 2011, she was the chief medical officer for the Health and Human Service's Office of the Assistant Secretary for Health. She coordinated a number of programs in the fields of child and adolescent health, disaster preparedness, environmental health, global health, Haiti recovery and the White House Council on Women and Girls.
She led the development of the department's 2012 environmental justice strategy, which addresses the disproportionate exposure of minority and low-income communities and Indian tribes to environmental hazards and promotes healthy community environments.

BET National News - Keep up to date with breaking news stories from around the nation, including headlines from the hip hop and entertainment world. Click here to subscribe to our newsletter.