Here's How Camille Cosby Reacted to 'Outrageous Questions' About Her Sex Life
She wasn't too happy.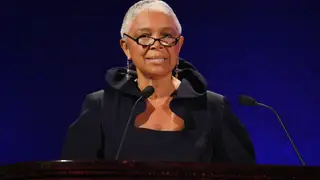 During her recent deposition in a libel lawsuit brought by seven accusers agianst her husband Bill Cosby, Camille Cosby remained fairly tight lipped. Now, when asked specifically about her sex life, she made it clear that she was not open to being subjected to "outragerous questions" about a part of her life she considers private.
Her attorneys asked a judge to terminate or limit the deposition, citing "a litany of improper and offensive questions" asked during the first session. According to Page Six, she was specifically asked of her "own sexual relations, her own political commentary and the death of the Cosbys' son in 1997, among others."
Camille's lawyers are adamant that the questions were asked with alterior motives in mind: "These questions were irrelevant to the issues in this case and plainly were designed to annoy, embarrass, and oppress the witness," they argued in court on Friday.
The accusers' attorney, Joseph Cammarata, said she refused to answer dozens of questions based on "an overly broad interpretation of the marital disqualification rule," and has thus asked the court to appoint Magistrate Judge David Hennessy to preside over the remainder of the deposition to prevent what he deems "deposition misconduct."
"Judge Hennessy's presence is necessary to deter Mrs. Cosby from further interfering with her own deposition," he wrote in a court filing on Monday.
Learn more of the Camille Cosby's involvement in scandal in the BET Breaks video, below:
BET.com is your No. 1 source for Black celebrity news, photos, exclusive videos and all the latest in the world of hip hop and R&B music.