Lil' Kim Reflects On Daughter Royal's Birthday From Last Year In Candid Post
The rapper posed with her daughter Royal.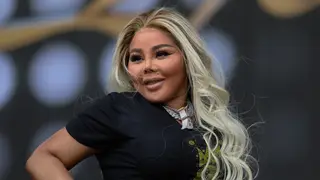 Lil' Kim is getting real about how busy being a parent is in her latest social media post about her daughter's eighth birthday from last year.
Over the weekend, the famous rapper known for "Crush On You" shared a post to Instagram to celebrate her daughter Royal's ninth birthday while hitting the rewind button to 2022 to Royal's eighth birthday bash, as reported by PEOPLE.
In the post, she keeps it real on her decision to share photos from last year's big day because she frankly "didn't have time" this year to plan a party.
"Last year my baby's birthday was everything. Thanks to all of our family and friends and Jennifer @wearegrandscaleevents my awesome party planner girl who put this event together so my baby could have one of the most memorable, happiest, fun-filled birthdays ever," she said in the post.
"And a super BIG special Thanks to @lolsurprise one of my princess's favorites for sponsoring the princess Bee's @royalreignjones party it was perfect. 👌 🙏🙏🙏 Thank You!"
In a moment of transparency, she revealed that she had been on the road a lot, which prevented her from going all out the way she had wished, but this year's party would still be one to remember. "This year I've been traveling so much that I didn't have time to plan my baby's annual extravagant Royal party".
The star hosted the party at a movie theater just in time for the release of Disney's The Little Mermaid, starring Halle Bailey, who plays Ariel. "So today we shut down @ipic with a private screening of The Little Mermaid @hallebailey cause it's a Royal Reign Mermaid kind of Day! Thank U to everyone at @ipic! U guys really took great care of us and we appreciate it so much!"
"HAPPY BIRTHDAY MY BEAUTIFUL LITTLE PRINCESS BEE @royalreignjones Mommie loves u soooooooo much! We will now be heading over to the next private location Moms, Dads, and Kids! Let's have some Fun!!! 🙌," she concluded.