Mixtape Review: Yasiin Bey & Marvin Gaye, Yasiin Gaye (The Departure)
Two worlds collide in a classic yet innovative fashion.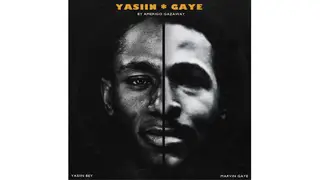 Do you believe in soul mates? Marvin Gaye may not have lived to see hip hop become the global force it is today, but his voice lives on through not only his songs, but the songs of countless rappers (listen to Erick Sermon's "Music" and Scarface's "A Minute to Pray and a Second to Die," for example).
Now, Amerigo Gazaway, the Nashville-based producer known by true hip hop heads for his breakthrough blend, 2011's Fela Soul, has resurrected Gaye's great voice once again for the hoodies and breakbeats generation.
On Yasiin Gaye (The Departure), the "Let's Get It On" singer's vocals are mashed up with the lyrical stylings of Brooklyn MC/poet Yasiin Bey (formerly known as Mos Def) to create an audible utopia of R&B, jazz and hip hop replete with seamless transitions and calculated mixing, making this the most flawless pairing since Danger Mouse fused Jay Z and The Beatles to create The Gray Album back in 2003.
From start to finish, Gazaway sonically bridges the gap between the soulful '70s and modern day, utilizing Marvin's harmonies to serve as an instrument to Bey's unmistakable flows. On "Inner City Travellin' Man," Bey's "Travellin' Man" is taken to another level with jazzy undertones and live drums, while Gaye's "Inner City Blues" helps paint a vivid picture of New York nights.
The mixtape lives in that classic '90s vibe, especially on songs like "Definition of Infinity" which features Bey's and Talib Kweli's 1999 hit "Definition" and the Fugees-esque "Peculiar Mathematics," the latter of which was the lone track to feature that good old fashioned DJ technique: scratching.
The live instrumentation is another one of the more impressive aspects of Yasiin Gaye, used on songs like "I Want You 'Til Summertime," which features a prominent saxophone solo. In fact, live drums amplified the tape throughout, yet don't take anything away from the vocals of either Bey or Gaye.
The Marvin Gaye tribute is made complete with the inclusion of some baby making music, like "The Panties," which features another late legend Teddy Pendegrass. Bey even catches the fever on this one, mostly singing his vocals. And the track with fellow soul music blend-master Kanye West, who sampled Gaye's "Distant Lover" on his song "Spaceship," off his The College Dropout debut. For Yasiin Gaye, Gazaway uses that same 'Ye album, mixing his "Two Words" with Gaye's "It Takes Two" to create "Two Worlds."
Ultimately, however, it's Gazaway's "voice" as a producer that is the most pleasant surprise. The songs were well-placed and perfectly timed. His "T Plays a Cool Loop," an interlude that details how this cross-generation collabo came to be, which comes after the mid-album hump, is a perfect example, as well as are the songs that are over six minutes long (four in total). This is the injection of hip hop soul that the game's been missing.
BET.com is your #1 source for Black celebrity news, photos, exclusive videos and all the latest in the world of hip hop and R&B music.