Don Cheadle Reveals Details About His Intimate Wedding Ceremony To His Longtime Love Of Over 28 Years!
Here's why the lovebirds decided to tie the knot! 💍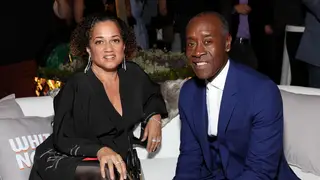 Don Cheadle is sharing a few details about his intimate wedding to his longtime partner of over 28 years, Bridgid Coulter Cheadle.
In an interview with People, the actor shared that he married his leading lady in a small ceremony. The outdoor wedding took place in 2020 during the height of the COVID-19 pandemic.
"It was just me and her and our kids and our dogs and the pastor in the backyard," Cheadle shares about his wedding day. The lovebirds share two adult children; Tai (28) and Imani (26).
In June 2021, Wanda Sykes shared the news while hosting The Ellen DeGeneres Show that she received a text from the actor about his marital status. She admitted during the interview that she didn't know he wasn't already married.
"Yeah, I mean, that's understandable given that we've been together 28 years before we got married," Cheadle responded. "I hold you blameless."
So, why did the couple marry after all these years? According to Cheadle, tax benefits.
"Our accountant proposed to both of us and he showed us the numbers, and we said yeah, we should probably do it," Cheadle joked of tying the knot while chatting with Entertainment Tonight in July 2021. 
He went on to share that his accountant has made marriage a topic of conversation for years. "It came up a lot of times. But every time, we were like, 'But we're already together?' He's like, 'Yeah, but this is a better reason to be together.'"
The star added, "Really it's because our accountant proposed to us, I wish there were some big sweet romantic story, but the romance happened, you know, the first year."
To those looking for advice on maintaining a lengthy marriage, Cheadle joked, "Wait 28 years before you get married. Do not rush into things. Be very careful!"
Congratulations to Mr. and Mrs. Cheadle on their union! Join us in wishing them many, many more years together.