Idris Elba's Favorite Workout Routine Will Surprise You
The actor also comes clean about his secret midnight snack.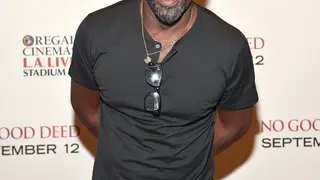 You'd think a man like Idris Elba would have a super tough workout routine, but in a recent video Q&A with People magazine, the actor surprised us with his favorite type of exercise.
"My favorite way to break a sweat is skipping," he said. "I like to skip. Ten minutes of skipping is a lot of work, believe it or not. Your whole body's going and you break a sweat very quickly."
It's a good thing he works out so fiercely by skipping because he admitted to his favorite late-night snack and the ease with which he can destroy the evidence.
"My favorite midnight snack is a Snickers bar," Elba said. "You know it's a nougat, it's caramel, but it's quick as well. And you can get rid of the wrapper really quickly so no one has to know."
And apparently the man knows his way around the kitchen, adding that he's incredibly good at making… toast.
"The best thing that I cook is toast. I'm really good at making some toast. Believe that!"
It's OK, though. With a smile like that, he could just serve us toast for breakfast, lunch, and dinner and we wouldn't mind one bit.
To watch his entire interview, click here.
BET.com always gives you the latest fashion and beauty trends, tips and news. We are committed to bringing you the best of Black lifestyle and celebrity culture.
(Photo: Charley Gallay/Getty Images for Screen Gems)