Al Roker Dishes on His Health and the Delights of Being a First-Time Grandfather
"The thing that's kept me going is I've had a new granddaughter," Roker said.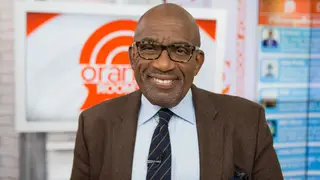 Al Roker is living his best life, and we love to see it.
Entertainment Tonight's Rachel Smith interviewed the weatherman and his "Today" co-hosts for the Halloween episode. Roker gave a brief update on his health and spoke about becoming a grandparent.
"I'm doing great, doing great. I tell you, the thing that's kept me going is I've had a new granddaughter." Roker said. His daughter, Courtney, and son-in-law, Wes Laga, welcomed their first child, Sky Clara Laga, in July.
Roker is living it up as a first-time grandpa. "You could love up on 'em and then you give them back... If I had known they were this much fun I would've had them first. It's the best."
Sky's first Halloween costume couldn't be more adorable as Roker revealed she was "going as a little cloud."
He, on the other hand, opted for a Lionel Richie portrayal. He joked, "I hope Lionel Richie hasn't seen this because I'm a huge Lionel Richie fan. Lionel, please forgive me. I could wear this all night long, but I don't know if the mustache would hold up."
This year, the legendary television personality celebrated his 69th birthday with much rejoicing. Roker shared his special day expressing gratitude, amid a year marked by health challenges.
He took to Instagram to share, "This is my 69th anniversary of orbiting the sun and after everything I went through at the end of last year, I am more than grateful to be celebrating this birthday. To all of you who sent good wishes and well wishes over this past year, God bless you. Thank you so much, I appreciate it."
Known for his dedication to walking and exercising, Roker adjusted his wellness routine after a hospital stay last year due to blood clots, according to Entertainment Tonight.
He returned to the morning show on Jan. 6 with his wife, Deborah Roberts, to speak about his significant recovery from being "very, very, very sick," emphasizing his status as a "living, breathing miracle."