'Today' Weatherman Al Roker Celebrates Sweet Granddaughter Sky's 2-Month Birthday
Sky Clara is Roker's first grandchild.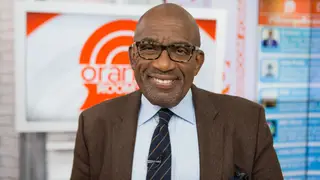 Al Roker is always up for a celebration, especially involving his granddaughter.
Undoubtedly, the beloved weatherman is smitten with little Sky Clara, and for the meteorologist, every day is an excellent day to delight in her. In a new post on Instagram, the proud grandad acknowledged her exciting two months of life, as reported by Today.
In a post he made on Monday (September 4), Roker is seen holding the adorable baby girl with both hands while she locks eyes with him.
"Here's to my little Sky Clara being here 2 months. That went fast," he captioned the post.
A day prior to his charming post, he gave her another shoutout while taking a four-mile walk. "Today, my granddaughter is 2 months old. Happy birthday, Sky!"
During today's (September 5) broadcast, he also shared with his co-stars that he had the honor of babysitting her over the weekend.
The precious newborn entered the world over the summer on July 3, making Roker a first-time grandfather. After her birth, his daughter, Courtney Roker Laga, and her husband, Wes, shared the announcement with her dad's work family.
"We are extremely excited to welcome a new member into our family and start this next chapter in our lives." They added, "We feel truly blessed and excited for our little miracle."
For Roker, becoming a grandfather has become one of the highlights of his life. Following her birth, he expressed his love for the newest member of his family in a post on Instagram. "And then this little girl came into my life," he wrote in the caption. "Welcome to the world, Sky Clara Laga. In love all over again. Thank you, Courtney and Wes for such a perfect blessing. (Your) baby is beautiful. Already planning the ways to spoil her and then hand her back."