Clap Back Queen: Chrissy Teigen Proves to a Twitter Troll that She's Not the One
The model goes for the jugular with her reads.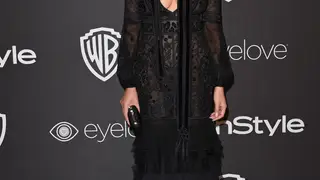 Chrissy Teigen is notorious for speaking her mind, especially on social media, but it seems as one particular Twitter troll hasn't caught on yet as she got stung for going below the belt, attacking the model's looks.
It all started when Chrissy shared her thoughts on a racist tweet insinuating that Melania Trump brings "beauty" back to the White House, comparing her looks to Jackie-O's. However, the photo the Twitter user referenced was not, in fact, the former First Lady; it was Katie Holmes playing her in a movie.
After another troll interjected, saying the model "wouldn't know much about beauty," she clapped back without even using a word.
See what John Legend and Chrissy Teigen had to say on gun control in the video, above.
The model gave the perfect response to a tweet mistakenly taking Melania Trump for Jackie-O (as a character)

Things went left when a troll came for her, attacking her looks.

However, Chrissy had a clap back ready to go.