Hip Hop Awards 2023: Who is Sexyy Red: 5 Key Facts You Should Know About the Missouri Native
Get to know the emcee behind the viral single "Pound Town."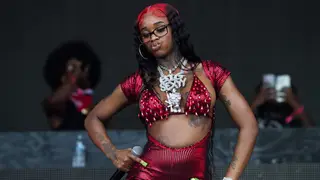 Among the newest stars to emerge on the rap scene is the unapologetic Sexyy Red, a name that has quickly become synonymous with lyrical prowess and charisma.
In an astonishingly short period, this 25-year-old sensation has not only earned the respect of her peers, including heavyweights like Nicki Minaj and Latto--but of whom she's collaborated with--but has also secured a coveted nomination at the 2023 "BET Hip Hop Awards" for "Best Breakthrough Hip Hop Artist." She contends against a roster of emerging talents in this fiercely competitive category, such as Armani White, Central Cee, Doechii, Finesse2tymes, Ice Spice, Kalii, and Lola Brooke.
As we eagerly await the grand premiere of this year's show on Tuesday, October 10, 2023, at 9 PM ET/PT on BET, get familiar with the Missouri native with these five facts.
The origin of her stage name

Born as Janae Nierah Wherry, this viral rap sensation adopted the alias "Red" due to her frequent choice of red hair and attire. She embed on her music journey and embellished her stage name by adding "Sexyy."

Before going viral for "Pound Town," she garnered attention for another track

Redd initially went viral in 2018 following the release of her single "Ah Thousand Jugs" which notably samples  Vanessa Carlton's classic and often referenced record,  "A Thousand Mile."

Her interest in rapping was sparked by a tumultuous relationship

According to the emcee, after catching her boyfriend cheating on her "with a lame ass b—ch," she made a diss song about him and the girl and her friends. You know, because the friends be in on it too, so I was talking all this stuff about them," she revealed in an interview with Complex.

She's a mom

When she's not rapping, Sexyy Red, is on mommy duties. The rapper has a son named Chuckie, who she also calls "Sexyy Junior." He was born in 2020.

She's an entrepreneur

Red is the owner of a lip gloss brand whose product name are just as wild as her song lyrics. Some names reference body parts and have apparently sold out.

Watch the Hip Hop Awards 2023 on Tuesday, October 10, 2023, at 9 PM ET/PT on BET.