Bill Cosby's Daughter Slams Spelman College, Beverly Johnson and Accusers
Evin Cosby blasts rape allegations on social media and releases a statement.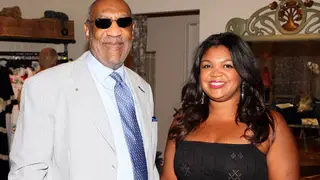 Bill Cosby's family is rallying around him in the wake of new and resurfacing rape allegations. One day after the sitcom icon's wife Camille Cosby released a statement in support of her husband, his daughter Evin Cosby has done the same.
"He is the FATHER you thought you knew. The Cosby Show was my today's tv reality show. Thank you. That's all I would like to say :)," the 38-year-old told Access Hollywood in an exclusive statement.
Actually, it turns out, that's not all she has to say.
Evin also took to her public Facebook page on Monday, December 15, to show support for her mom and to address claims made against her father, seemingly implying that the more than 20 women to accuse Cosby should go to prison. "Rape is a serious allegation and it is suppose to be taken VERY seriously but so is Falsely accusing someone," she wrote. "When someone rapes a person they go to prison. THAT should also happen to the person that has wrongfully accused an innocent victim. They are not ONLY destroying innocent people's life they are ALSO making it hard for the MEN and Women to find justice when they have been raped."
She then aimed her social media rants at Spelman College, which suspended Cosby's endowed professorship, and former supermodel Beverly Johnson, who accused Cosby of drugging her in the 1980s.
"Spelman College should be ashamed of themselves. Morehouse College is a [sic] all BLACK school for men. Does anyone remember 4 Black men that were SENT to PRISON because a fellow Spelman student said she was raped," she ranted on Facebook. "Well…… This Spelman woman was caught and turned out she lied about being raped after these men had their faces posted on the cover of ever news paper and held in jail...Shame on YOU Spelman. You need to go to Sister's Chapel and talk about this article revisit how many other innocent MEN that have been WRONGFULLY accused!!"
Evin then went in on Johnson, questioning her story that Cosby had drugged her, yanked her down the stairs of his home and threw her in a cab: "Questions- if someone isn't feeling well…. What you do? Do you A. Call a doctor B. Go to the hospital or C. Can't believe I called someone BLEEP??? It's either A or B!"
She adds, "Drugged- you can remember the whole damn day but you were drugged? Just sayin. Memory- you can remember you looked at (allegedly) eachother [sic], people were starring [sic] allegedly remembering your home address allegedly the name you called him allegedly But you were allegedly drugged." Evin's rants in defense of her dad come after more than 20 women, including Johnson and Janice Dickinson, have come forward publicly accusing the comedian of drugging them in the past.
Click here to win a trip to the Super Bowl Gospel Celebration in Phoenix, AZ, plus 4 tickets to the Big Game. 
BET.com is your #1 source for Black celebrity news, photos, exclusive videos and all the latest in the world of hip hop and R&B music.
Click here to subscribe to our newsletter.

(Photo: Bryan Bedder/Getty Images)