Biden Nominates Gen. Charles 'CQ' Brown As Chair Of Joint Chiefs of Staff
'General Brown is a warrior, descended from a proud line of warriors,' Biden said of the decorated veteran at the announcement.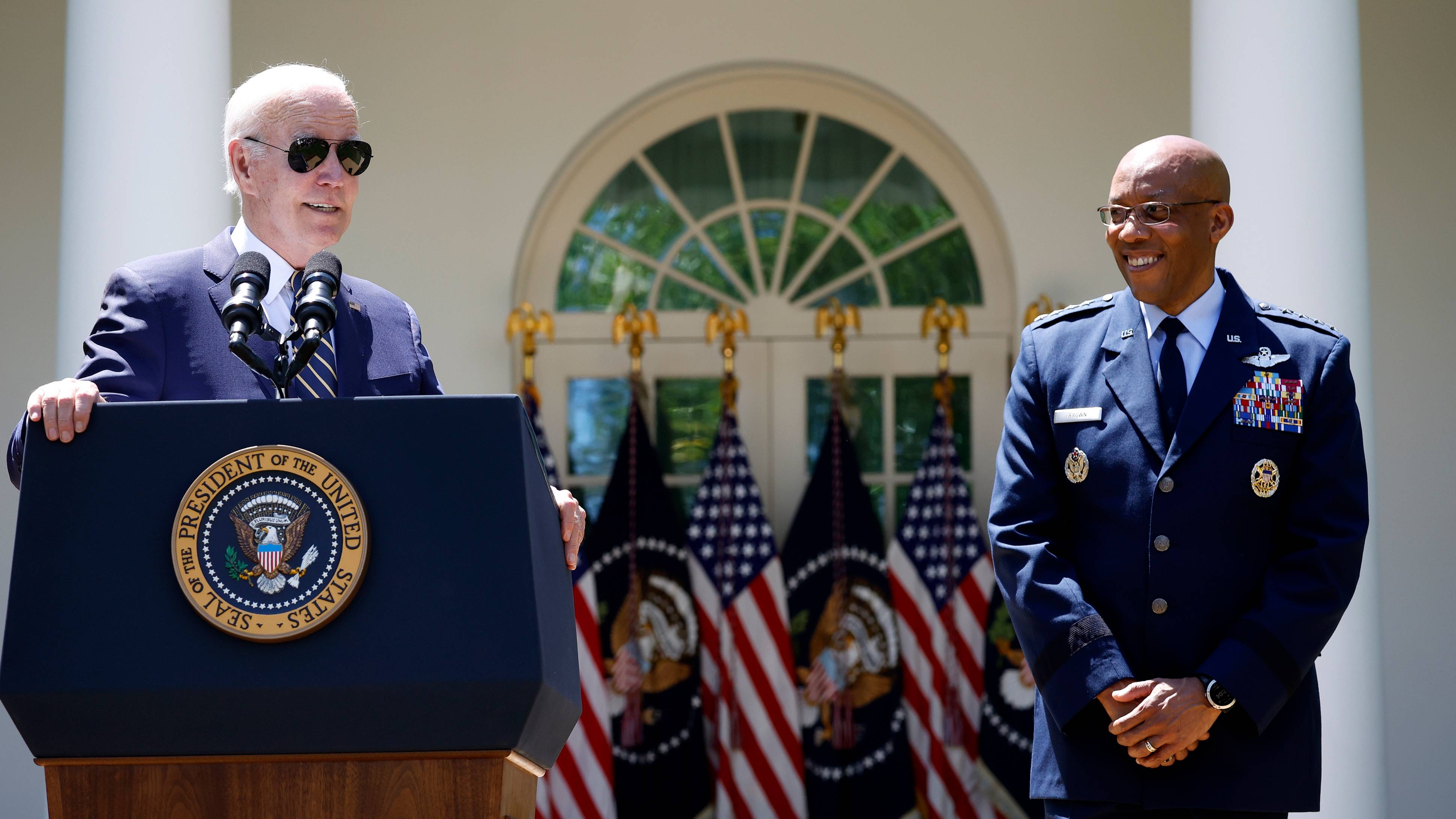 President Joe Biden has announced the nomination of Gen. Charles "C.Q." Brown Jr. as the next chairman of the Joint Chiefs of Staff, CBS News reports. If confirmed, he will be the second Black chairman of the Joint Chiefs of Staff following Gen. Colin Powell who became the first in 1989 when he was nominated by President George H.W. Bush in 1989. Defense Secretary Lloyd Austin, the first Black defense secretary, recommended Brown.
At a news conference on Thursday (May 25), Biden lauded Brown's accomplishments noting that he is extremely qualified to give leadership in the position.
"General Brown is a warrior, descended from a proud line of warriors," Biden said. "He knows what it means to be in the thick of battle and how to keep your cool when things get hard, like when your F-16 was on fire and you returned to the base in Florida in 1991. C.Q. had to eject at more than 300 miles an hour, landing in the Everglades. That's a lot of fun, huh? Well, I tell you what, he was back in the cockpit the next week, with a new call sign — Swamp Thing."
Biden thanked Milley and his family for their service at the announcement.
"Chairman Milley, I want to start by thanking you, I really mean it, for your years of service as chairman and for your lifetime of selfless commitment to our country," the president said.
Before his nomination as chairman, Brown, a decorated United States Air Force four-star general, was appointed as the 22nd Chief of Staff of the Air Force, according to his biography. He is the first Black American to be appointed as chief of staff and to lead any branch of the United States Armed Forces. He's also served as the commander of the Pacific Air Forces, air component commander for the United States Indo-Pacific Command, and executive director of the Pacific Air Combat Operations Staff.
Brown is a graduate of Texas Tech University with a degree in civil engineering, is a distinguished graduate of the Air Force Reserve Officers Training Corps, and earned a master's degree in aeronautical science from Embry-Riddle Aeronautical University.
In 2020, TIME magazine named Brown as one of the 100 most influential people in the world.
Biden urged the Senate to put partisan issues aside and confirm Brown.
"C.Q. is a fearless leader and an unyielding patriot, and that's why three years ago, he was confirmed by the United States Senate, 98-0," Biden said. "I urge the Senate to once again confirm General Brown with the same, the same overwhelming bipartisan support for his new role as chairman of the Joint Chiefs of Staff."