Jussie Smollett Released From Jail During Appeal Process
The former "Empire" actor served only six days of his 150 day sentence.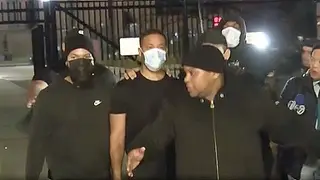 UPDATE: Jussie Smollett was released from Cook County jail on Wednesday (March 16) evening after an appeals court agreed with his attorneys that Smollett should be released while his appeal is pending reports ABC7Chicago.com. He has been incarcerated for six days after being remanded immediately once his 150 day sentence was imposed last week. The appeals court also decided that Smollett could be released after posting $150,000 for personal recognizance bond, meaning he will pay that bond if and when he should miss any future court dates. 
The actor/singer left the jail wearing a mask at roughly 8:00 p.m. CT and surrounded by bodyguards and at least two of his brothers. Despite questions from the media, Smollett said nothing. 
His attorney Nenye Uche  took to Smollett's Instagram page to further explain the decision warning, "we have a long battle ahead of us". 
"The basis of our appeal was very simple. We told the appellate court that pending the appeal Jussie aught to be released because quite frankly, to put in layman's terms and not legal talk, the case sucks, the case is bogus against him and they released him. It says a lot about what the appellate court thinks of this case," said Uche.
Several celebrities and fans have taken to social media to express their feelings of relief. Actress Taraji P Henson, who played Smollett's mother on "Empire" and has supported him publicly through this ordeal posted "Thank God!!" 
Jussie Smollett will be released from jail after serving six days.
According to the Associated Press, the 39-year-old was ordered to be released from jail today (March 16). The order came from an appeals court that agreed with his lawyers that he should be released pending the appeal of his conviction.
Smollett was sentenced to five months in Cook County jail after a conviction of five felony counts of disorderly conduct. In addition to the jail time, he was ordered to pay restitution and serve out 30 months of probation.
After he was sentenced, Smollett lowered his mask and stated his innocence, adding, "Your honor, I respect you and I respect the jury, but I did not do this."
He then took his eyes off the judge and turned to the people of the court to say, "And I am not suicidal," he said according to CNN. "And if anything happens to me when I go in there, I did not do this to myself. And you must all know that."
Smollett was sentenced to 150 days in prison after being convicted of staging a hate crime. In addition to the jail time, he'll have to pay $130,000 in restitution and serve 30 months of probation. He began serving his 5 months sentence on March 11.