Lupita Nyong'o Recovers From COVID, Shows Off 'Black Panther' Training
​​"I may have been down... But I am coming back," the actress captioned her Instagram post.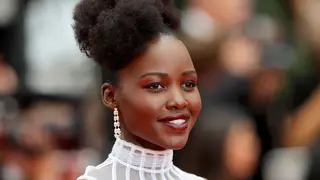 Lupita Nyong'o's recovery from COVID appears to be moving in a positive direction after Black Panther: Wakanda Forever director Ryan Coogler and his team were forced to shut down filming due to a COVID-19 outbreak on set.
Deadline reported that the award-winning actress tested positive on Jan. 4.
On Monday (Jan. 25), Nyong'o headed to Instagram to update her fans on her recovery and showed off her Black Panther training in the process.
"I may have been down... But I am coming back! 🙅🏿‍♀️🙅🏿‍♂️🙅🏿‍♀️ #LetsGetIt," she captioned her post. "Working out is not always cute but I never regret moving my body. So happy and thankful to be back at it. Thank you for all the well wishes! #Bodybonding."
Shooting has reportedly already picked back up in Atlanta for about four weeks, THR notes.