Rob Kardashian Claims Blac Chyna Backed Out Of Revenge Porn Settlement
Her legal team has responded.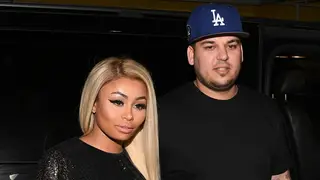 Rob Kardashian is claiming that Blac Chyna is backing out of the revenge porn settlement they agreed upon.
Back in 2017, according to TMZ, Chyna was going after Rob over his revenge porn outburst where he posted nude photos of her to social media while accusing her of being unfaithful in their relationship.
Chyna was allegedly seeking a seven-figure payout from the reality star at the time. However, according to Page Six, Rob filed court docs claiming Chyna backed out of a settlement and he is asking the judge to enforce the agreement. The details of the settlement are unknown but Rob's court docs say the settlement was proposed by Chyna's attorney, Lynne Ciani, on May 23.
Kardashian's attorney wrote in an affidavit, "At best, Chyna's belated repudiation of the parties' settlement agreement is a strategy to exact monies from Rob at the eleventh hour. At worst, it is a tactic deliberately intended to interfere with Rob's preparation for trial and prejudice his ability to fully and fairly present his defense. Such outrageous conduct should not be counseled."
In a statement to Page Six, Chyna's attorney reacted with "Under California law, settlement discussions are confidential. Rob Kardashian has violated California law by revealing alleged details of ongoing settlement discussions. Chyna is permitted under California law to disclose that settlement discussions regarding her revenge porn case against her ex-fiancé are ongoing. When and if a confidential settlement is reached in this case, Chyna will alert the court first and then the media."
Last month, Chyna went to trial against the Kardashian family for defamation and interfering with a contract after the reality show, Rob & Chyna was canceled. She was seeking more than $100 million in damages.
After two days of deliberations, the jury did find that the Kardashians "often acted in bad faith on the issues brought up in the case," per the Associated Press. They also found that while the Kardashians were not justified in telling producers that Chyna had abused Rob—that they felt it had no substantial effect on the model getting a second season of the reality spinoff. However, the Kardashian family was not ordered to pay anything to Chyna.
Chyna's attorney told the AP she plans to appeal.