Steve Harvey Defends Ellen DeGeneres Amid TV Show Scandal
Season 18 of 'The Ellen Show' is scheduled to premiere on September 21.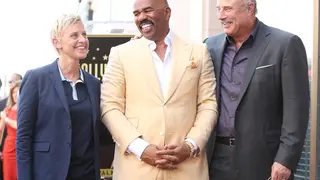 Steve Harvey is the latest celebrity to come to the defense of Ellen DeGeneres after many of her talk show staffers reported working a toxic workplace environment. Sitting down with "People the TV Show!" on September 17, Harvey had nothing but positive things to say about DeGeneres. 
"Ellen, the person, is probably one of the coolest and kindest people I've met in this business," the comedian and talk show host said. 
"Ellen has no control over what every staff member does, what every producer does, you can't control that," he continued. "You don't even know some of the stuff that's happening." 
Following a BuzzFeed exposé published in July, WarnerMedia conducted an internal investigation following multiple allegations saying DeGeneres maintained a toxic and hostile workplace culture.
Harvey's comments come after comedian Kevin Hart, who came to the defense of the daytime talk show host in early August, said that she has always been nice to his family after knowing her for years. 
"It's crazy to see my friend go thru what she's going thru publicly," Hart said in his Instagram post. " I have known Ellen for years and I can honestly say that she's one of the dopest people on the f***ing planet. She has treated my family and my team with love and respect from day 1."
"I stand by the ones that I know and that I love," he continued. 
Season 18 of the "The Ellen Show" is scheduled to premiere on September 21, where she will reportedly discuss the show's recent scandal