Lil' Kim Speaks On Her 'Violent Relationship' With Biggie
She tells her side of the story where Big pulled out a gun on her.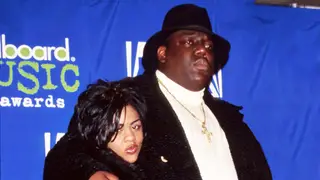 If there's anyone's word you can take for that, it should be the Queen Bee herself, who stopped by Hot 97 to confirm the incident and shed more light on her mindset at the time.
Kim started by saying that JD's story, where he recalled Big holding a gun to her head in the midst of an argument, is "a part of history," so there's no issue with JD sharing it. Besides, she added, it wasn't the first time that he recounted the situation publicly either. After confirming his memory of the incident as "very close to the truth," with just a few holes in it with regard to how it actually went down, she addressed the problematic nature of her and Big's love affair.
"We did have a very violent relationship," she admitted. "I hate that, for a while, that was all I attracted: violent guys."
The La Bella Mafia femcee mentions the double-standard existing between women and men in the industry as well, which was even more prevalent during that time.
"You know how it is when you're in the industry: the guys can do whatever they want, but you can't do s**t," she said with a laugh. "You can't do nothing."
She made sure to fill in the parts of the story that JD missed, too, clarifying that Big was never even intended to be at the studio where the incident occurred. Kim, on the other hand, was showing up to do a track with Usher and the So So Def label head. According to her, he only came to keep an eye on her and make sure hers weren't on any of the other guys there.
Kim didn't mind Big pulling up to the spot, though, she added, because she appreciated his lyrical influence wherever (and whenever) possible while she penned her bars.
See what else she had to say about the incident and other hot Kimmie topics below.