Horrific Details Behind Sex Offender Charged With Dismembering Girlfriend And Forcing A Sanitation Worker To Dispose Of Her Body
Somorie Moses was arraigned on a second-degree murder charge in the slaying of girlfriend Leondra Foster.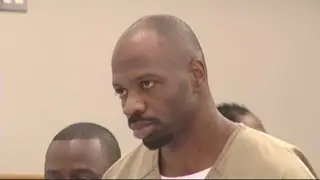 A convicted sex offender has been charged with murdering his girlfriend, then dismembering her body.
40-year-old Somorie Moses was originally arrested on counts of concealing a human corpse and tampering with evidence but then was arraigned in Brooklyn Criminal County on a charge of second-degree murder and held without bail.
32-year-old mother-of-one Leondra Foster's head was found in a freezer with other parts of her body dumped in The Bronx. Moses is accused of killing Foster, butchering her body, and then disposing her torso and a leg at a trash-sorting facility. It's also been reported that a sanitation worker was forced to help him get rid of Foster's body.
According to the New York Daily News, Moses allegedly coerced the unidentified sanitation worker into helping him conceal Fosters' remains in heaps of trash at the Metropolitan Transfer Station in Hunts Points last week. That man is supposedly cooperating with the investigation. The rest of Foster's body was found stuffed inside a freezer in Moses' apartment in Flatbush, Brooklyn, which led to his arrest last Sunday (January 22). The cause of death has been determined as multiple blunt force trauma.
"We in Brooklyn will seek justice for Leondra Foster, who was so tragically and brutally murdered," Eric Gonzalez, the acting Brooklyn District Attorney, said in a statement. "Somorie Moses is now charged with second-degree murder for that heinous crime."
Somorie Moses arrest came just days after the workers at the Metropolitan Transfer Station came upon a female torso and leg without a foot. Moses' criminal record also includes no fewer than eight arrests on charges stemming from rape to patronizing a prostitute.
Watch PIX11's news package about the alleged murder below.