Ahead of March Anniversary, Civil Rights Veterans Discuss King's Unfulfilled Dream
Civil rights activists say that Martin Luther King Jr.'s dream for a level economic playing field has not been realized.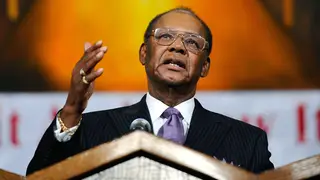 Labor leader William Lucy. (Photo: Kevork Djansezian/Getty Images)
It took some time, but Turner and others leading the effort ultimately were able to convince a majority of the workers to mobilize. The strike began on Feb. 1, and two weeks later, King traveled to Memphis to lend his support.
"[He] said it's a sin for a person to live in this rich nation and receive starvation wages. We had employees that were working eight hours a day, five days a week and on welfare," Turner said. "That wasn't right. When we showed all of our employees how they were being used and mistreated, we didn't have any problem getting them out on strike."
The audience Wednesday night included several low-wage workers. Some of them shared harrowing and heartbreaking stories about being at the mercy of unsympathetic employers who resist paying a living wage and offering benefits, including Potbelly's, Subway, Walmart and the Smithsonian Institution.
Turner's advice to them was to go to their employers with their demands. Progress may not come quickly, he warned, but they must still make some noise.
While acknowledging that King's economic dreams for people of color remain unfulfilled, he pointed to the fact that an African-American occupies the White House as a sign of hope.
Turner also said that registering to vote and actually casting ballots for lawmakers who share their interests, such as a higher minimum wage, as one of the most powerful ways they can get their message across.
"Until we do something about these people who are against us, we're going to still be in a slump," he said. "We're going to overcome. Keep the faith."
Civil rights and labor leader Bill Lucy noted how, over the next several days, there will be a lot of talk about the dream portion of King's historic speech. But he believes there needs to be a lot more focus on the portion of the speech that talked about the promise the writers of the Constitution and the Declaration of Independence made giving everyone, no matter the color of their skin, the unalienable right to life, liberty and the pursuit of happiness. But, according to King, the nation had defaulted on that promissory note as far as people of color were concerned.
"Having a job that pays a wage that allows you to provide for yourself and your family is a cornerstone of freedom and rights," Lucy said. "Dr. King would be outraged at the situation we're wrestling with, where the federal government is complicit in the perpetuation of poverty among people who work every day, not looking for a handout but a fair shake."
Lucy added that young adults today ought to be having a discussion about workplace inequities and attacks on labor and worker rights.
"Young people can join the ranks of those who want to organize workers and communities and have people fight back for their share of the American dream," Lucy said.
BET National News - Keep up to date with breaking news stories from around the nation, including headlines from the hip hop and entertainment world. Click here to subscribe to our newsletter.