Educated Rapper From U.T.F.O. Has Passed Away
Also known as EMD, the emcee passed away at the age of 54.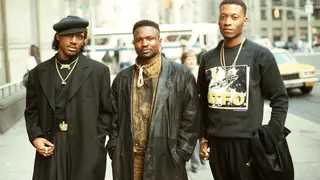 Educated Rapper (a.k.a. EMD) of the legendary hip-hop group U.T.F.O. has passed away, according to fellow group member Mix Master Ice and legendary Bronx promoter Van Slik.
Real name Jeffrey Campbell, the emcee's passing was confirmed late Saturday (June 3). He was taken to a Brooklyn hospital where he died. Van Slik told HipHopDX that the EMD had been fighting with cancer, however an official cause of death has not yet been determined.
"I just got off the phone with Rahiem (of the Furious Five)," Van Silk says. "They were all hospital last night. It was the first time all original members of UTFO had been together in a long time. He had been sick with cancer and must have had it for awhile."
Mix Master Ice had previously posted a heartfelt plea on Facebook to fans asking for their prayers prior to Campbell's passing.
All members of U.T.F.O. (which stands for Untouchable Force Organization) were reportedly together at EMD's hospital bedside before he died. It was the first time the group had been together in full for quite a while.
U.T.F.O. is perhaps best known for their hit "Roxanne, Roxanne," which stood on its own as a classic cut, but also ignited what would later be known as the "Roxanne Wars" – a series of beef tracks between the Brooklyn-based group and Queens rapper Roxanne Shanté (from the Juice Crew).
"Roxanne, Roxanne" along with "Pick Up The Pace" was also featured on the 1985 film Krush Groove. Untouchable Force were among the first breakdancers to appear on daytime television as well.
View reaction from those close to Educated Rapper as well as other hip-hop luminaries below.