Amber Rose and Piers Morgan Slam Each Other on Twitter Over Her NSFW Photo
The journalist is not here for the activist baring her private parts on Instagram.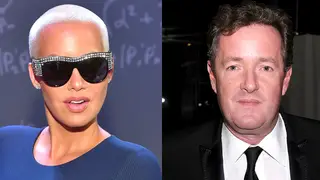 Amber Rose made news on Saturday for her third annual SlutWalk when she posted an NSFW picture of her bare bottom half on social media — which of course got a lot of attention. 
One of the people who noticed Amber's private parts in his Instagram feed was British journalist and general malcontent Piers Morgan, who had some negative things to say about Amber and her cause. His words sparked a dramatic back-and-forth on Twitter between the two for all to see. 
See the heated interaction below:
Looks like Amber won this round. 
See more Amber Rose news with BET Breaks, above.
Piers was clearly not impressed with Amber's kitty:

Amber went straight into IGDAF-mode: