Fantasia Officially Enrolls Into Ohio HBCU, Central State University
The singer hopes to be an example for others.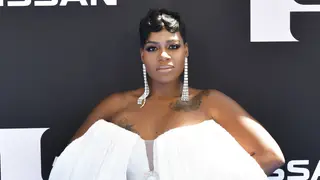 Former American Idol superstar Fantasia Barrino-Taylor is heading back to school.
In a heartwarming clip posted to her social media page earlier this week, the Grammy Award-winning singer and songwriter revealed that she has officially enrolled as a student at Central State University, a public historically Black institution located in Ohio.
The "Free Yourself" singer will be studying business with hopes of sharpening her "sword" and bettering her craft. During an interview with People, the 38-year-old shared that she wanted "to break generational curses" and cited her family as her inspiration.
"When it comes to my family, my girls, my children, I want to show them that no matter what she's been through, you can always get back and go after it again, and that's what I am doing," the "I Believe" singer explained.
According to the outlet, the r&b singer dropped out of high school but eventually received her GED in 2010.  Fantasia told the publication she wants "to be the example" by using her platform "to show people — men, women, Black, white, young, old — that if you have a dream, it doesn't have to have a timeline."
She added, "It doesn't have to look a certain way and, in fact, looks better when it has a bunch of bruises and scars because that means you fought for it."
In her post on Instagram, Fantasia thanked "everyone who was a part of making this happen for me and working with my busy schedule," and a special thanks to her Sigma Gamma Rho Sorority, Inc. sisters. The star became an honorary member in 2022.
The "Truth Is" singer will now walk the same halls as notable alumni, including reality star and former political aide Omarosa Manigault Newman, civil rights figure Elizabeth Eckford, Congressional Black Caucus chair Joyce Beatty, former United States Under Secretary of the Army, John W. Shannon, and many more.
Congratulations Fantasia !