Terrence Howard Blames Ex-Wife for His Love of Cocaine, Porn
Empire star says he hasn't touched the stuff since their divorce.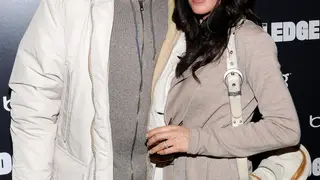 Final arguments wrapped up today in the nasty divorce case between Terrence Howard and Michelle Ghent, but not before some major tea was spilled on the stand. According to TMZ, the Empire star — who broke down in tears while testifying last week — revealed to the judge and jury that he and Ghent used to do a lot of drugs together when they were married.
Cocaine, ecstacy and marijuana were just some of the couple's vices, along with pornography. But Howard seemed to imply that Ghent was the instigator of their bad behavior, telling the jury that ever since they split, he's been living like a saint. "I refuse to get high, I refuse to watch porn," he says of the new-and-improved Terrence.
Howard and Ghent have, of course, been fighting over spousal support, with Ghent seeking much more than the $5800 a month she's currently getting. Ghent wants a huge chunk of Howard's Empire earnings, but the actor says the only reason he's paying her anything is because she's blackmailing him with threats of leaking a sex tape and nude photos.
After divorcing Ghent, Howard went on to marry Mira Pak. Though the couple welcomed a son on June 15, court documents revealed today they actually divorced just a month later on July 27. Lord only knows what's going on with Howard's personal life, but maybe he should stay single for a while.
Watch Terrence talk to us about his regrets — including that damn IRS debt — in our throwback interview below:
BET.com is your No. 1 source for Black celebrity news, photos, exclusive videos and all the latest in the world of hip hop and R&B music. 
Click here to enter the #LookYourSundayBest contest for a chance to win FREE natural hair-care products.

(Photo: Michael Buckner/Getty Images for Bing)