Black Women TV Writers And Producers Who Slayed Hollywood
Here are several Black women creatives whose work behind the cameras has helped pave the way for inclusion and fairness.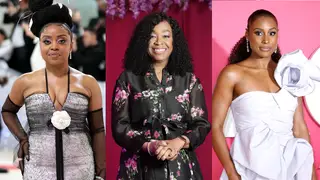 Members of the Writers' Guild of America have officially gone on strike. This is their first strike since 2008, but much has changed. Writers are being paid 23 percent less, when adjusted for inflation, compared to 15 years ago, partly due to the advent of streaming.  The Writers' Guild is asking for a new three-year contract that addresses proper compensation, specifically for online streaming. Over 11,000 writers are not working, halting many scripted projects from movies to television shows. 
In honor of writers, we celebrate Black women in television who paved their way, shattered glass ceilings, and gave us some of the most incredible content to grace the small screen.
Oprah Winfrey

While many might think of Oprah Winfrey as a media mogul, she first conquered television. As a talk show host, in 1988 she founded Harpo Productions Inc., a television production company, which took full charge of The Oprah Winfrey Show – unprecedented for the time. Harpo Productions produced the iconic television miniseries The Women of Brewster Place, airing in 1989. She was the first Black person to control her own major television studio when she launched Harpo Productions.

By 1993, Winfrey founded Harpo Films, which aired the television films Their Eyes Were Watching God in 2005 and The Wedding in 1998. By 2011, she founded OWN Network, which was the home for hit shows from Tyler Perry and Ava DuVernay. Winfrey tore the door down for other Black women to create production companies and land lucrative television deals.

Ava DuVernay

Speaking of Ava DuVernay, in 2016 she created Queen Sugar, which was based on the book by Natalie Baszile. The OWN series followed a raw look at the life of a Black family in the South told through the Bordelons, who struggle to preserve their land and legacy in the fictional St. Josephine Parish in Louisiana. After seven seasons, the series came to an end in December, but Queen Sugar cements DuVernay's legacy as a Black woman pioneer in television.

Shonda Rhimes

Shonda Rhimes is a television titan and innovator. After her big break writing Introducing Dorothy Dandridge in 1999, which starred Halle Berry, she created Scandal, Grey's Anatomy. She served as an executive producer on How To Get Away With Murder. Rhimes redefined what it meant to be Black on TV, both in front of the camera and behind, paving the way for many others. In 2021, Shondaland Media landed a branding and merchandising deal with Netflix. She debuted Bridgerton, quickly becoming one of Netflix's most-watched shows ever. This year, Rhimes launched a spinoff called Queen Charlotte: A Bridgerton Story, which dropped this week.

Quinta Brunson

Quinta Brunson is the creator and star of the wildly popular ABC series Abbott Elementary. Brunson has made the series relatable to an audience of millions but also changed the game in how Black showrunners can make a real-world impact in their communities. In September 2022, she made history by becoming only the second Black woman to win television's highest award for Outstanding Writing for a Comedy Series. Lena Waithe won the award for Master of None in 2017.

On May 2, she spoke out to support the writer's strike, tweeting, "I am a writer. I'm in the wga. I'm also on strike! I have no real power here other than to join my union in demanding fair compensation for writers! #wgastrong." 

Mara Brock Akil

With writing credits that included Moesha and The Jamie Foxx Show, Mara Brock Akil was barely 30 years old when she pitched Girlfriends to the CW. The show was a massive hit and led to the spin-off, The Game, which eventually found a home at BET. In 2014, she brought Being Mary Jane to BET. Starring Gabrielle Union as a journalist trying to balance work, family and romance, Being Mary Jane was a certified hit and won three NAACP Image Awards, including one for Akil for Outstanding Writing in a Dramatic Series. Mara Brock Akil is definitely a legend in television.

Issa Rae

Emmy-nominated actress, producer, and writer, Issa Rae, made a YouTube series a movement. The Misadventures of Awkward Black Girl was a New York Times bestselling book and then Insecure, an NAACP Image and Peabody award-winning HBO series. Although Insecure only aired for five seasons and fans wanted more, in 2020 she landed an executive-producing deal at Netflix.  Rae is also an EP on numerous projects, including A Black Lady Sketch Show for HBO, the docuseries on Black television Seen & Heard and the comedy series Rap Shit, see the trailer above.

Aeysha Carr

Aeysha Carr has been slaying the page and screen since working on Chris Rock's Everybody Hates Chris. She has helped to usher in a healthy wave of Black television sitcoms from Kenya Barris' Freeform comedy, Unrelated, to NBC's The Carmichael Show and Brooklyn Nine-Nine, where she was also a writer.  She was also show-runner of Hulu's Woke, which aired for two seasons.

Janet Mock

In 2018, Janet Mock debuted the groundbreaking Pose, where she served as a writer, producer and directed several episodes. The following year, she made history as the first Black trans woman to establish an overall deal with a major studio, which was Netflix. Mock has been steadily working ever since. Last year, she was an executive producer on Netflix's Dahmer - Monster: The Jeffrey Dahmer Story.

Robin Thede

Robin Thede is the creator of A Black Lady Sketch Show. The popular series is on season four at HBO Max and has won three Emmys. While Thede has a hit show, she has been grinding for years, Thede is also BET family. She has served as a writer on Real Husbands of Hollywood and several BET Awards shows – and of course, she hosted The Rundown With Robin Thede, which aired from 2017 to 2018. In 2020, she landed an overall deal with HBO. 

Thede has also spoken about the writer's strike, calling for writers to receive a living wage. See her post above.

Lena Waithe

Three years after becoming the first Black woman to win an Emmy for comedy writing, Lena Waithe continues to make history. Her semi-autobiographical series, Twenties, on BET, is the first primetime show about a Black queer woman. She is undeniably one of the most prolific creator-producers in Hollywood, giving us critically-acclaimed work such as The Chi, and Boomerang, currently on BET+, that connects us to characters of color with unflinching honesty and realness. Waithe told The Hollywood Reporter in 2020, "My mission is to provide a space for people to grow, while making work that people can look at and say, 'That broke a barrier.'"

Mission accomplished and there is still more work to do!