Desiigner Discusses Being Shot at 14 Years Old
He broke it all down in a Genius interview.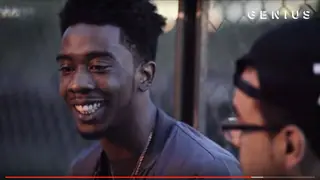 Desiigner has had quite a year so far. His single "Panda" hit No. 1 and went platinum, and since he's blown up overnight, we're still trying to learn a little about him.
That's what Genius did recently. In a video released on the site, the Kanye West signee showed off the Brooklyn neighborhood he's from and even recalled a story when he was shot at age 14. 
"I was a bad kid — I was a hard head, I was in the streets doing dumb sh*t," he told Rob Markman. "I got hit [by a bullet] in my hip. It was a little bit of blood, and that little bit of blood — it wasn't serious, I was in the hospital 10 minutes, 30 minutes — but it was just that moment that really said, 'Yo, mind your business.' When that happened to me, I knew I wasn't supposed to be there. I always had a voice in my head that said don't do the bad."
Desiigner also explained why he left the streets and says music was what he really wanted to do.
"[Being in the streets] wasn't working for me, so I was like, you know what I'm gonna do, I'm gonna sell my talent," he said.
Watch Desiigner's full interview with Genius below.