So, This Is The Reported Reason Angela Simmons Dumped Her Baby's Father...
It's a pretty big one.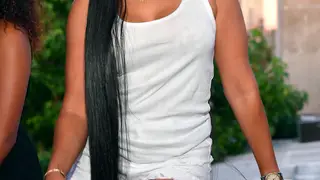 Angela Simmons ended 2017 by elusively revealing to her fans that she was "walking away from what isn't healthy," leaving many to believe she was talking about the father of her child, Sutton Tennyson.
Since she hadn't been seen with him for months and hasn't been wearing her engagement ring, it was all but confirmed that the two split up less than a year after getting engaged and welcoming their first child. Now, we may know the reason why.
Get more Simmons family news with BET Breaks, above.
According to Bossip, Tennyson, 37, had been battling a felony drug trafficking charge all while simultaneously courting the famous scion.
Court records further show that he was arrested near the Los Angeles Airport in March 2015 and was charged with felony transportation and sale of marijuana. While the site reports that he fought the case "until fairly recently," he reportedly managed to make a deal with prosecutors and plead "no contest" to a misdemeanor weed trafficking charge.
Records at the LA Disctrict Attorney's Office show that he was eventually sentenced to 30 days community service and a suspended four-month jail sentence.
Though this case was closed, he continued to fight other legal battles including a lawsuit made against him by The Ford Motor Co. in September 2017 for breach of contract where he was accused of halting payments on his car lease. The company is seeking the balance due which totals approximately $3,200, plus legal fees. He is yet to respond to the lawsuit.
While this all is going on, Tennyson reportedly isn't slowing down as records show that he has moved back to the East Coast into a four bedroom, 4,200 square foot home for $431,000.