Hip Hop Awards '20: 5 Politically-Charged Moments That Are Still Relevant Today
From Occupy Wall Street to Black Lives Matter, hip-hop has always been on the forefront of change.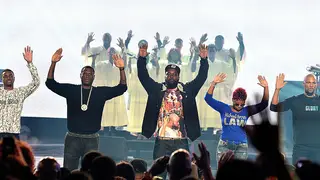 Rap music has long been a rallying cry for the Black community to denounce the establishment that chain-linked our lives to systematic oppression.  The BET Hip Hop Awards stage witnessed those moments where some of rap's most venerated emcees and wordsmiths have used their platforms to condemn the many societal ills that plague Black people in America. In the early 2010s, a number of hip-hop's luminaries stood in solidarity with the Black Lives Matter amid the police killings of Trayvon Martin, Michael Brown and Alton Sterling. 
There were also other socio-political movements such as Occupy Wall Street, which resulted American's frustrations of the ever-widening wealth disparity. This year, the 2020 Hip Hop Awards arrives amid a time that has been marked by a racial reckoning coupled with a global health crisis as the presidential election looms on November 3. In line with previous traditions, there's sure to be some social commentary during the broadcast when it airs on October 27 at 9 p.m. ET. Ahead of the show, BET.com is looking at five powerful, politically-charged moments on the stage that reminded us exactly what we're fighting for.
Big K.R.I.T.'s Evocative Spoken Word Performance On Police Brutality

In his first time performing at the BET Hip Hop Awards in 2016, Big K.R.I.T. delivered a movingly passionate spoken word performance on police brutality and loss of Black lives in America. Donning a police officer's uniform, the Mississippi rapper's voice overflowed with emotion as he recited some of his verse from his collaboration with Kenneth Whalum, "Might Not Be OK." His words struck the audience's heart, who rose into a standing ovation, including Snoop Dogg, who solemnly raised his first and held it up high in the air.

T.I.'s Black-Panther Inspired Performance Rallying For Black Solidarity

T.I. had a message to deliver during the 2016 BET Hip Hop Awards as well. In a nod to the Black Panther Party, the Atlanta rapper took to the stage in an all-black outfit and black beret for his performance of "We Will Not," his protest anthem from his Us Or Else EP. Tip decried the police killing of Black people while surrounded by men and women holding signs that read "Fight the Power," "No Justice, No Peace," and "Black Lives Matter. In the background, images of Civil Rights icons intermixed with footage from the Black Lives Matters movement rolled on a screen. The Grand Hustle MC closed his set with a message calling for Black solidarity, saying, "United we stand. Look around and see the power around you. We got to stand together. It's us or else. It's do or die."

Common's Powerful Tribute To The Countless Lives Lost Of Police Brutality

In one of the more powerful moments of BET Hip Hop Awards' history, Common paid tribute to Mike Brown and the countless others whose lives have been taken at the hands of the police. Backed by a full gospel choir, he performed a spirited rendition of his song "Kingdom," joined by Vince Staples and Jay Electronica. "We do this for the Black people all around this country going through the struggle. We do this for our fallen soldiers," Common proclaimed before he brought out Brown's parents, Lesley McSpadden and Michael Brown Sr. Together,  they all raised their hands up in the "Hands up, don't shoot" gesture, spurring the audience to stand up and do the same in a show of solidarity.

When Lupe Fiasco Brought Occupy Wall Street To The Hip Hop Awards

In 2011, the Occupy Wall Street became a rallying cry for disenfranchised Americans in New York and dozens of cities in the U.S. fed up with the nation's wealth disparity. The Chicago rapper came on stage clad in an Occupy Wall Street t-shirt for a politically-charged performance of "Words I've Never Said"  at the BET Hip Hop Awards. He was joined on stage by Erykah Badu, who wore a burqa.

LL Cool J's Poignant Acceptance Speech On The Reality Of Being Black In America

While it's the cyphers that usually garners viewer's attention, LL Cool J had everyone captivated when the legendary rapper dropped some bars while receiving his I Am Hip-Hop Icon accolade at the 2011 Hip Hop Awards. In lieu of a formal acceptance speech, the legendary rapper dispensed some thought-provoking social commentary on the reality of being Black in America before an enraptured audience. His rhyme was met with raucous applause and adulation. There's too many gems to pick a singular standout bar, but knowledge was most definitely dropped that night. It's yet another instance proving why LL remains the G.O.A.T.

The 2020 Hip Hop Awards will air on BET October 27 at 8/9c.