Spike Lee Celebrated as King of Culture
The iconic filmmaker honored with portrait by Kehinde Wiley.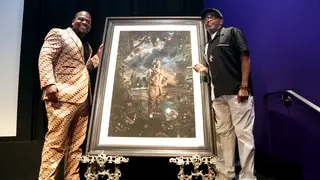 Spike Lee is celebrating the 25th anniversary of his iconic film Do the Right Thing and was recently honored as king of his craft by Grey Goose Le Melon. The vodka brand partnered with world renowned artist Kehinde Wiley to create the "Modern Kings of Culture" portrait series, in which he immortalized the New York filmmaker in his regal renaissance style.
Before the big reveal, guests were treated to cocktails and a screening of St. Claire Bourne's 1989 documentary, Making Do the Right Thing. The behind-the scenes-footage showed a young Lee leading the late Ossie Davis and wife Ruby Dee through dialogue as well as interviews with residents of the Bed Stuy neighborhood in Brooklyn where the movie was filmed. The star-studded crowd listened to Lee and Wiley during a Q&A where they discussed the importance of the film and acknowledged their mutual respect for one another as creatives.
Lee was both impressed and humbled by the portrait, which remained on display for the guests to see as they toasted Lee's success and danced to tunes spun by Q-Tip. Grey Goose plans to honor two more kings this summer, Swizz Beatz and Carmelo Anthony. Of course, Lee joked about holding Anthony's portrait hostage until he decides on whether he'll re-sign with the Knicks.
All of the paintings will be completed by Willey and sold at auction later this year. All proceeds will go to each honoree's favorite charity — for Lee, it's the NYU Student Film Fund, so that he can continue lighting the path for the next generation of filmmakers.