Iman Returns To Location In Bali, Where She Honeymooned With Husband David Bowie
The supermodel and the iconic rocker were married in 1992; Bowie died of cancer in 2016.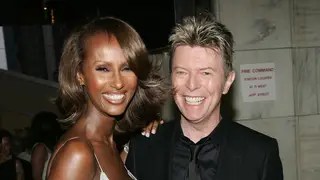 Supermodel Iman and her husband, rock icon David Bowie had a love story for the ages. Bowie died from cancer in 2016; however, his wife continues to honor his memory and their love.
In a recent Instagram post, the model and entrepreneur shared two photos. One of herself in a pool in Bali—the same one she and Bowie visited more than 30 years ago on their honeymoon. And another of the couple in 1992.
She captioned the images. "June 1992 Honeymoon, Bali.. January 2023, Bali," she wrote, adding. "#BowieForever"
In 2021, Iman launched a fragrance called Love Memoir as a tribute to their "epic romance." The scent contains various notes of aromas they both loved. She told People that she created the fragrance during the coronavirus pandemic, adding, "I found by creating this fragrance, remembering David and being in the house, it just somehow eased my grief," she shared. "And I came through it."
"He was so instrumental," she told PEOPLE. "As much as I find myself confident, I'm actually very apprehensive of starting things, especially businesses. If David was not in my life, I don't know if I would have had the courage to start Iman Cosmetics — he's fearless in that way. He gave me the courage."
The couple, who share a daughter—Alexandra, had a once-in-a-lifetime love. She told Hoda Kotb in 2022 that her deepest wish is to see Bowie again. "If there is an afterlife, I'd like to see my husband again," she said. "That's the one I want."
She added that she thinks of Bowie "every minute of every day," and that she wears a necklace dedicated to his memory.
"I think of him all the time," she told Kotb. "People say 'your late husband' and I say, 'Don't call my husband late. He's not my late husband. He's my husband, and he'll always be.'"
The Somali-American model and actress was a muse for designers Gianni Versace, Thierry Mugler, Calvin Klein, Donna Karan, and Yves Saint Laurent. She is also a philanthropist who has been the first-ever Global Advocate for CARE (Cooperative for Assistance and Relief Everywhere), where she works alongside CARE to support its mission to create a world where poverty no longer exists and where people live with dignity and security.