Verzuz: 5 Easter Must-See Moments Between Mary Mary and BeBe and CeCe Winans
This is the moment gospel fans have all been waiting for.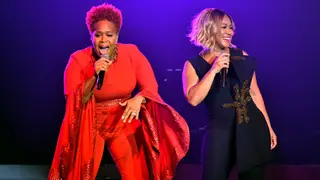 The moment gospel fans have all been waiting for has arrived.
Verzuz, the internet-born musical competition series created by producers Timbaland and Swizz Beatz, presents an Easter Sunday Special event featuring two sibling duos, sisters Erica Campbell and Trecina Atkins-Campbell, better known as Mary Mary, and brother-and-sister duo, BeBe and CeCe Winans.
Mary Mary found mainstream success with their debut album Thankful in 2000. The duo is known for making big hits, including their uptempo smash record "Shackles (Praise You)," while selling more than eight million records worldwide. In the other corner, BeBe and CeCe have cranked out timeless songs since the early '80s. Together the pair have racked up several awards, including three Grammys, one of which they earned in 2010 for Best Contemporary R&B Gospel Album for their ninth studio effort, Still.
This Easter battle is just one of many must-see moments from the viral music series' lineup for spring and summer 2022. Other stand-out dates include the Memorial Day Weekend Verzuz, the Juneteenth Special, and the "First-Ever Label Matchup'' coming soon in July, with more information to come.
Fans have watched some of the music industry's most prominent and influential acts go against each other, including Gladys Knight versus Patti LaBelle, The Isley Brothers versus Earth, Wind and Fire, Kirk Franklin versus Fred Hammond, with the promise of many more taking to the Verzuz stage.
The Verzuz Easter Sunday musical extravaganza is set to take place this Sunday (Apr. 17) at 6:30 p.m. PT / 9:30 p.m. ET. Viewers can access the celebration on the Triller app, VERZUZTV.COM, YouTube, Twitter, Facebook, or on the VerzuzTV official Instagram page.
Ahead of this weekend's competition, here are five things we are excited to see during this weekend's showing.
Timeless Music

Together Mary Mary has a musical career spanning over four decades, spinning out hits including Mary Mary's "Shackles (Praise You)," "God in Me," and "Yesterday," from the group's third and self-titled 2005 album, Mary Mary.

The Winans have given the music world several chart-climbing R&B singles, including "I.O.U. Me," which topped R&B and inspirational charts, and garnered the pair several Grammy nominations, "Heaven," and "Lost Without You."

Hilarious Commentary

Reactions to Verzuz never fail to bring a good laugh. However, with lineups in the past like the one between Brandy and Monica or the one fans never saw coming — Jeezy versus Gucci Mane — it's hard not to pick up your smart device and tap into the conversation as Mary Mary versus BeBe and CeCe happens in real-time.

Viral Worthy Moments

If there is anything a Verzuz event that's guaranteed to deliver, it is good music and moments that'll have fans chatting online for weeks to come. The Dec. 2021 matchup between legendary rap groups Three 6 Mafia and Bone Thugs-N-Harmony perhaps goes down in Verzuz's history as one of the most chaotic shows ever. Mary Mary versus BeBe and CeCe Winans won't go that far, thankfully, and fans of both artists will be rewarded by experiencing a miracle during the live stream.

A History Lesson

Verzuz gives viewers extensive discography and sometimes never-before-heard stories behind classic tracks. During the Erykah Badu and Jill Scott gathering, the neo-soul pioneers revealed they both played a role in creating The Roots' "You Got Me." 

Scott wrote the verses for the chorus, and Badu sang it on the album. Scott, who had never written a song before, said that when the band approached her with the opportunity, she took a leap of faith and went for it. With Mary Mary and BeBe and CeCe Winans, gospel fans are excited to learn more about the moments that shaped their favorite praise worshippers.

Sunday's Best Fashion

Who goes to Easter Sunday church service and doesn't take the opportunity to come out in their finest threads. That's precisely what the Isley Brothers and Earth, Wind, & Fire did during their appearance on the first-ever Verzuz Easter special on Apr. 6, 2021, hosted by veteran comedian Stever Harvey, who didn't clean up so bad himself. And with that event having passed being a viral sensation in itself, we cannot wait to see how internet watchers and BeBe and CeCe Winans and Mary Mary clean up this Sunday.