Who's Lying? Tiffany Haddish's Ex-Husband Breaks His Silence About Her Abuse Allegations
The actress claims he beat her and caused a miscarriage in new memoir.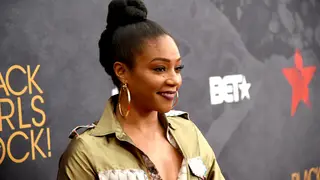 Abuse allegations have been leveled at Tiffany Haddish's ex-husband, William Stewart, and they're nothing short of stunning.
In her memoir, The Last Black Unicorn, the comedian and Girls Trip star accused Stewart, who she married and divorced twice, of physical abuse, which culminated, she claims, in the result of her having a miscarriage. She also says he became outraged after a comedy show she performed at when he saw her talking with another male comedian.
Well, according to V-103, William Stewart is denying all physical abuse claims and says he had nothing to do with the miscarriage.
"I married Tiffany, her issues, and not the Hollywood lifestyle," he said in the interview. "I have never beat or hit or called a woman a 'MF or B' while having a disagreement ever in my life. I never caused a miscarriage, I have documents to prove this. Tiffany advised me about a month ago about the book and she told me that I would be furious."
Stewart also says he hopes that he and Tiffany can work this out before all details hit the public sphere and/or the courtroom.
"I'm not gonna try to tear something down that I helped build," he said. "I just wanna come on this show to tell the truth. I have been seeking legal representation, I don't wanna bring all the dirt out. Tiffany and I, I believe that we can settle this."
Wow. Haddish has yet to respond to her ex's newest comments.