Eazy-E's Daughter Is Looking for Answers About Her Father's Death
She launched a Kickstarter.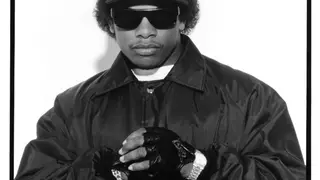 N.W.A. founding member Eazy-E passed away in 1995 due to complications from AIDS, but his family, to this day, believes that there's more to the story.
Last year, his son, Yung Eazy, came forward with an allegation that Suge Knight had injected Eazy with an AIDS-infected needle, and that before the "studio incident with Suge," his father was perfectly healthy. While his post making such a claim has since been deleted, his sister, Ebie Wright, is looking to reopen her father's case, and try to uncover new details about his untimely death.
Wright has launched a Kickstarter campaign for the cause, intending to use the raised money to fund a documentary series titled, A Ruthless Scandal: No More Lies. The documentary series poses the question of whether or not Eazy-E was murdered, and explores the conspiracy theories surrounding his death.
"Through the narrative of Eazy's very intellectually poised daughter Ebie," the campaign's description states, "she is going to take you back 21 years on an emotionally intense journey addressing lies, rumors and inconsistencies of her father's unusual and untimely death through intense probing in face-to-face interviews with the most crucial people who were around Eazy throughout the years."
The project has recruited a couple producers from Eazy's family, including his eldest daughter Erica Wright and music industry manager Tracy Jernagin.
"People who conspired and flocked around Eazy during his last months with ulterior motives will be blasted," the campaign's description continues. "Using years of probate court documents (The Estate of Eric Wright) along with guidance from her mother Tracy Jernagin who fought in court, exclusive and private information that the public never knew will finally be told through Ebie. Details of what was happening each day leading up to him supposedly succumbing to Aids will be revealed [...] The FACTS are simply jaw dropping."
At the time of this report, the Kickstarter campaign was not funded in time, but we will be keeping an eye out to see if Eazy-E's family has other plans to get the financial backing they need for the investigative documentary series.