BMI: Is This Scale Broken for Black Women?
Body Mass Index doesn't take bigger bones into account.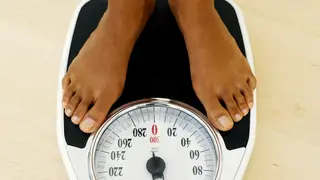 Body mass index (BMI) is a measure of body fat based on height and weight that applies to most adult men and women. It does not measure body fat directly. BMI is an inexpensive and easy-to-perform method of screening to identify possible weight problems for adults. Epidemiologists use BMI to calculate national obesity rates.
A British Journal of Nutrition published a study that found the BMI formula, which is widely used to determine body fat, may not be accurate for non-Caucasian, multicultural populations. The current BMI categories state:
— Underweight = <18.5

—Normal weight = 18.5–24.9

—Overweight = 25–29.9

—Obesity = BMI of 30 or greater
"This scale was created years ago and is based on Caucasian men and women. It doesn't take into account differences in body composition between genders, race/ethnicity groups and across the life span," says Molly Bray, an associate professor of pediatrics at Baylor College of Medicine and lead author of a study at Baylor College of Medicine in Houston, Texas.
Bray states, "Non-Hispanic white women are not considered obese until they have a BMI of 30 or above. For African American women the number is 32."
African-Americans tend to have less visceral fat (fat around their organs) and more muscle mass. An African-American with a BMI of 28, considered overweight by the standard chart, may be as healthy as a Caucasian person with a BMI of 25. There are a lot of differences in BMI and health risk among multicultural groups according to  Richard L. Atkinson, MD, a researcher and editor of the International Journal of Obesity.
BET Health News - We go beyond the music and entertainment world to bring you important medical information and health-related tips of special relevance to Blacks in the U.S. and around the world. Click here to subscribe to our newsletter.  

(Photo: Stockbyte/Getty Images)