Prank Wars! Nick Cannon Pulls Another Hilarious Stunt On Kevin Hart
"#PrankWars #WeDontStop #NickCannonShow "Kevin Rides The Cannon!!!," he captioned his Instagram post.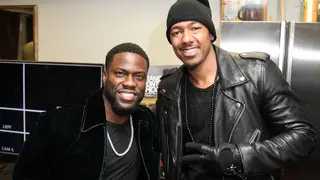 The prank wars have reached another level of good fun between Nick Cannon and Kevin Hart. 
After Hart plastered a Los Angeles billboard of Cannon and his phone number, The Wild N' Out creator is back with an even wilder prank that includes Hart's private jet. Revealing his trick on his Instagram, Cannon put a jumbo photo of himself on the plane to promote his new series, The Nick Cannon Show. 
"NICK CANNON'S KEVIN HART PRANK - REVEALED!," he captioned his post. "I got you good @kevinhart4real - and I GOT you as the FIRST GUEST on my new talk show. #Winning #prankwar #NickCannon"
In a follow-up post, he detailed more information on how he was able to pull the prank off. 
"Snuck into [Kevin Hart's] private hanger over the weekend and personally wrapped his Leer Jet with my whole Face! So now everywhere he flys he will be promoting my New Show!!! Gotcha Back Byaaaach!!!," he wrote. "#PrankWars #WeDontStop #NickCannonShow "Kevin Rides The Cannon!!!"
"You know what, I'll tell you how it feels," Hart said, responding to the prank on a sneak peek of The Nick Cannon Show. "It feels like I've lost. That's how it feels Nick. It feels like you had one in the hole and you saved it."
"You made me forget about all of the little prank wars that we was doing. And you saved the good one for last," he added.
We can't wait to see what new prank Kevin Hart has up his sleeve for Nick Cannon.