Drake And Funk Flex Exchange Words During Instagram Live Session
It appears the OVO honcho and radio veteran have not yet buried the hatchet.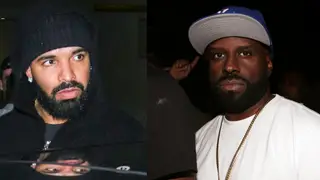 Drake and Funk Flex have long been at odds with one another, a divide that deepened after the Bronx-bred radio veteran questioned Drake's penmanship as a rapper amid his feud with Pusha T. And, it seems tensions flared up between the OVO honcho and Funk Flex again earlier this week. 
While the nation reclines indoors amid social distancing protocols, many DJs and producers have taken self-quarantining as an opportunity to spin tunes at virtual Instagram parties to uplift our spirits and keep the party alive. DJ Spade and DJ Night SoundOwl faced off in a friendly spar over an Instagram Live session. Drake and Rihanna were among those who tuned in to watch the battle (and exchanged a few words in the live session too). It just so happens Flex was also in the fray, which did not escape the notice of the 6 God. 

"Funk Flex guh weh p***y," he issued once he noticed Funk Flex in the chat. Unperturbed, Funk Flex fired back at the Scorpion rapper. "Drake!! Talking Tuff!!!! (U ain't tuff n**ga)," he hit back. This latest exchange comes after Flex seemingly dissed Drake (again) in the comments section of Timbaland and Swizz Beatz battle jam that happened this week as well.
Unfortunately, it doesn't appear the two will be burying the hatchet any time soon if their latest interaction is anything to go by.