Jussie Smollett Proclaims Innocence In New Song 'Thank You God'
"You think I'm stupid enough to kill my reputation?" the actor asks in the new drop.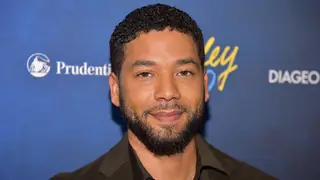 Jussie Smollett is proclaiming his innocence once again, and emphasizes that if anything happens to him during incarceration, the wound would not be self-inflicted.
The former Empire actor, 39, is now currently out of jail while his attorneys fight a sentence handed down to him last month on a conviction of staging a hate crime in Chicago. Apparently, he now has time to hit the studio?
On Friday (April 8), Smollett released a nearly six-minute-long gospel-influenced R&B track called "Thank You God…" Streaming on all platforms, the song features a choir singing "thank you God for showing me my enemies" before Smollett provides a spoken-word verse aimed at critics, namely law enforcement, which he claims falsely accused him in the 2019 incident.
"It's like they're hell-bent on not solving the crime / Taking out the elements of race and trans and homophobia that's straight taking lives / But turn around and act like I'm the one that killed the strides," Smollett slowly raps over a sparse beat. "I can't be mad / Take my ego out / Some people searching for fame / Some people chasing that clout / Just remember this, this ain't that situation / You think I'm stupid enough to kill my reputation?
"Just simply to look like a victim like it's something fun," he adds. "Y'all better look at someone else, you got the wrong one."
Smollett, whom prosecutors allege orchestrated the hate crime against himself to boost his public profile, then rebukes the infamy in the new track. "All I ever wanted to do was make my people proud / Fame is nothing real, it's how you make them feel / Celebrity is for the birds, I ain't no man of steel," he raps.
Listen to the song below.