Harvard University Creates Fund To Redress Its Historical Ties To Slavery
The school is committing $100 million to an endowed 'Legacy of Slavery Fund' after uncovering its involvement in slavery and white supremacy.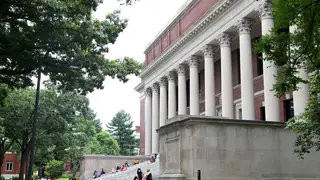 Harvard University released a report Tuesday (April 26) titled  "Harvard and the Legacy of Slavery" that acknowledges its involvement in the slave trade and white supremacy. The prestigious Ivy League school has pledged $100 million to redress the injustices.
From its founding in 1636 to the abolition of slavery in Massachusetts, Harvard faculty, staff and leaders enslaved more than 70 individuals, according to the findings of a committee tasked with uncovering the history. Some of the slaves lived and worked on campus where they served the university's presidents, professors and students.
Harvard also profited financially from the slave economy of the U.S. South and the Caribbean through its connections to wealthy donors.
"During the first half of the 19th century, more than a third of the money donated or promised to Harvard by private individuals came from just five men who made their fortunes from slavery and slave-produced commodities," the report said.
Harvard has previously acknowledged its era of supporting eugenics, a now-discredited white supremacist "race science" that called for eliminating certain genetic traits from the human gene pool. The report, which delves deeper into that period, noted that research to advance eugenic theories took place on campus.
For example, Dudley Allen Sargent, director of Harvard's Hemenway Gymnasium from 1879 to 1919, "implemented a 'physical education program' that involved intrusive physical examinations, anthropometric measurements, and the photographing of unclothed Harvard and Radcliffe students," according to the study. Harvard presidents and prominent professors were also involved in promoting "race science" and conducting abusive research.
Harvard President Lawrence Bacow formed the committee in 2019 that produced the study.
"I believe we bear a moral responsibility to do what we can to address the persistent corrosive effects of those historical practices on individuals, on Harvard, and on our society," Bacow stated.
To address that shameful history, the university's governing corporation has pledged $100 million in part to create an endowed "Legacy of Slavery Fund."
The list of recommendations includes building "enduring partnerships" with historically Black colleges and universities (HBCUs). Harvard would pay for an exchange of HBCU and Harvard faculty on each other's campus. The Ivy League school would also invite HBCU students to spend a summer or multiple semesters at Harvard during their junior year under a newly created Du Bois Scholars program. It's named for civil rights leader W.E.B. Du Bois, the first African American to earn a Harvard Ph.D. in 1895.
The school said it is also working to identify Black and Indigenous students who are direct descendants of people enslaved in the U.S.
"We further recommend that, in recognition of this lineage, the university engage with these descendants through dialogue, programming, information sharing, relationship building, and educational support," it said.