Eva Mendes Shares Thoughts on Motherhood With Women's Health Magazine
The actress says she's not ready to start giving parenting advice.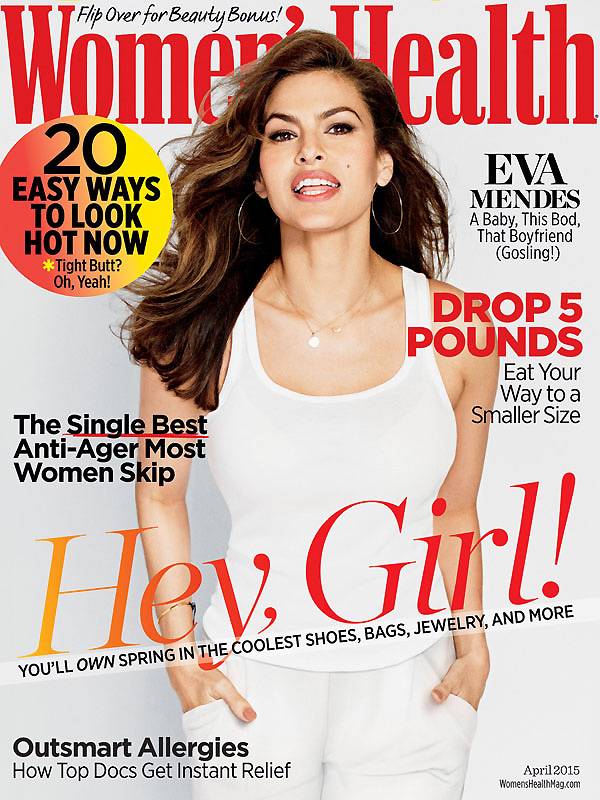 (Photo: Women's Health Magazine, April 2015)
Eva Mendes is six months into motherhood and the actress looks incredible for her Women's Health cover. The 41-year-old beauty welcomed her first child, Esmeralda, with boyfriend Ryan Gosling (lucky girl), and she says she's loving every bit of motherhood — yes, even the all-nighters.
"I'm actually enjoying the sleepless nights because it's bonding with my little girl," Mendes said.

She's still learning the ropes when it comes to parenting, which is why she's hesitant to give any advice just yet.
"I don't feel like I've really earned the right [to dish parenting advice]," she admits. "I want to respect all the moms out there. They're going to be like, 'You know what? You're a few months in. Just shut up.'"
When it comes to getting her body back in shape, Mendes admitted to not enjoying working out, but realizes that she needs the structure in order to stay in form.
"I realized a long time ago that I needed to have some kind of routine," she says of her fitness regime. "I don't love it, but I've made peace with that."
Her routine includes light weight training, yoga, and going on hikes to stay toned and be able to keep up with the demands of parenting. Not one to disregard the importance of good mental health, she also credits her therapist for keeping her stress in check.
"Having [a therapist] who's totally objective and who points out my patterns — I find that really helpful," she said. "And I'm lucky to work with someone who doesn't just sit there and nod her head, you know? I need to hear what you think! Tell me what's wrong with me so I can fix it!"
To read her entire cover story, grab the April issue of Women's Health,  on newsstands March 17.
BET.com always gives you the latest fashion and beauty trends, tips and news. We are committed to bringing you the best of Black lifestyle and celebrity culture.