Hank Aaron Rooting For Alex Rodriguez to Bounce Back
Hall of Famer hopes troubled slugger has great season.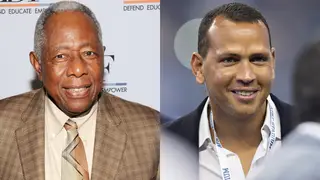 Alex Rodriguez has full support from a legendary Hall of Famer and one of baseball's greatest sluggers of all time.
Hank Aaron hopes that A-Rod can return from his 2014 season-long suspension for involvement in performance-enhancing drugs to have a solid 2015 campaign with the New York Yankees.
Although Aaron wishes A-Rod well, he isn't quite sure how Rodriguez, who turns 40 in July and is playing on two surgically-repaired hips, will fare over the course of a full season.
"I wish him well, but I just don't know," Aaron continued telling the New York newspaper. "When you're [away] from playing the game the whole year and go out and then have to face kids that are throwing 90 mph, it's a tough thing."
There is hope, though. Aaron was 40, when he surpassed Babe Ruth on the all-time home run list back in 1974. Aaron, with 755 homers, sits second on the list to only Barry Bonds. A-Rod currently has 654 home runs, only six away from tying Willie Mays for fourth on the list. Aaron said if he could, he would like to see A-Rod play this season.
"If I wanted to go to the game and A-Rod was playing, I certainly would go to the game," Aaron said. "I've met A-Rod, and to be honest, between him and me, he's been nothing but a friend to me. I liked him."
BET Sports News - Get the latest news and information about African-Americans in sports including weekly recaps, celebrity news and photos of your favorite Black athletes. Click here to subscribe to our newsletter. 
(Photos from left: Craig Barritt/Getty Images for NAACP Legal Defense Fund, Wesley Hitt/Getty Images)