Rihanna Shared These Nipsey Hussle Text Messages, And Fans Are Crying Tears Of Regret
Hearts are breaking all over again.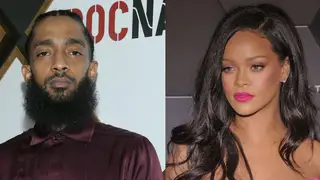 Barbadian beauty, fashion and music maven Rihanna was one of Hollywood's dozens who poured out eulogizing words and condolences after the passing of hip-hop's newest angel, Nipsey Hussle.
"This doesn't make any sense!" she wrote via Instagram on a photo of the late Crenshaw-native with his daughter, Emani, at the Grammys. "My spirit is shaken by this!" In another post, Rih expressed her strife with grappling the reality of his loss, deploring that she "can't believe someone would rob us of [him]." Sadly, Rih appears to still be struggling to shake the ache of it all, especially after finding that the Victory Lap rapper was hopeful about working with her soon, as revealed by his text messages with Yung Berg.
The Atlantic Records hitmaker posted the texts to Instagram on the day of Nipsey's death

From them, we can see that Berg shared an audio file likely with a song demo on it. "Yea I need this one!" Nip responded. Berg suggested that with RiRi's touch on the track, it would be Billboard Hot 100 gold. Nipsey agreed, replying "We gotta get Rihanna then," before locking in that he'd work on the track. Rihanna reposted the message with a tear-faced emoji as several fans joined her by dropping off their heartbreak and tears at the missed opportunity of a Nipsey and RiRi collabo. Some even encouraged her to continue moving forth with the record and releasing it posthumously in the case that Nipsey had already gotten around to throwing bars on it.

Rih dedicated her second post of Nipsey's remembrance to the love of his life, Lauren London

A video shows several moving photos of the life partners together as London-born songstress Nao's "Another Lifetime" soundtracks the clip. "I'm so sorry @laurenlondon," Rih penned in the caption to the actress. From club moments, to their iconic GQ cover shoot, to dinner dates and everything in between, the memories embedded in the photos were met with more tearful reactions from fans. The post was also met with love from Tamar Braxton, Rick Ross, Kevin Hart, Eva Marcille and several other Hollywood figures who held the couple close to their hearts.

BET continues to send love and light to Lauren London and all of the family and friends of Nipsey Tha Great.