Florida A&M Confirms First Female President, Elmira Mangum
Florida A&M University selects Elmira Mangum as its new president, the first woman to lead the historically Black college.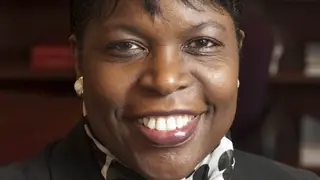 (Photo: Courtesy of Florida A&M University)
Florida A&M University has selected Elmira Mangum as the new president of the historically African-American college, the first woman ever to lead the school.
"It is an honor to be recommended from among such an accomplished field of candidates," Mangum said in a statement.
Mangum currently serves as vice president for budget and planning for Cornell University.
The board of trustees at Florida A&M confirmed her appointment on Thursday. That vote followed more than a month of contract negotiations, centering primarily on benefits she should receive in the event of termination or resignation before the end of her three-year contract.

Mangum will be the university's 11th president and the first woman to hold that post in the 126-year history of Florida A&M University. She is scheduled to start in April.
"She brings a wealth of experience and information and talent in a number of areas," said Solomon Badger, chair of the board of trustees, in an interview with BET.com.
"She has lots of experience in budget and planning and she holds all the skills and experiences necessary for the leadership role at Florida A&M," Badger said. "She is now prepared to give the historically Black College and University that which she has been able to provide to other institutions. I think that's part of her desire to come to FAMU."

Mangum is coming to the school in the aftermath of some deeply difficult times. The school was the scene of the hazing death of Robert Champion, a member of the marching band. It was a killing that led to charges being leveled against several students and eventually led to the resignation of the former president, James Ammons.

In addition, the university has had academic problems and a yearlong probation of its accreditation was lifted just a few weeks ago.
Mangum received a bachelor's degree in geography from North Carolina Central University. She also earned master's degrees in urban planning and in public administration from the University of Wisconsin, Madison. She received a doctorate in educational leadership from the University at Buffalo. She is a life member of the National Council of Negro Women and Zeta Phi Beta Sorority.
BET National News - Keep up to date with breaking news stories from around the nation, including headlines from the hip hop and entertainment world. Click here to subscribe to our newsletter. 
Follow Jonathan Hicks on Twitter: @HicksJonathan