#BLM Protester Deray McKesson to Teach at Yale University
The activist will participate in leadership lecture series.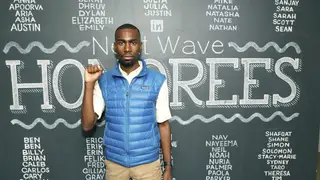 Deray McKesson is among the most visible members of the #BlackLivesMatter movement, and now he's set to bring his message to the Ivy League.
McKesson has been tapped by Yale University to be a guest lecturer at their Divinity School this fall. The Twitter activist will speak as part of the Transformational Leadership for Church and Society lecture series. Other lecturers include Democratic Senator Chris Coons and liberal United Church of Christ minister Nancy Taylor, both of whom are Yale Divinity alumni.
McKesson's lectures in particular will focus on "Transformational Leadership in the Black Lives Matter Movement" and "will present case studies about the work of organizing, public advocacy, civil disobedience, and social change, through both Leadership of Presence, and Leadership in the Social Media."
Unsurprisingly, conservatives are rallying against the university's decision to invite McKesson into halls of education, calling him a "race-baiter" and a "race hustler." Fox and Friends host Tucker Carlson lambasted the school's decision to hire "someone who's popular on Twitter." Carlson goes on to accuse McKesson of "dividing people by skin color, making totally unfounded, stupid claims," and as someone "who doesn't appear particularly erudite." 
"Our world is changing with great speed," YDS Dean Greg Sterling has said, via statement. "Yale has a long tradition of training individuals to lead in churches, institutions of higher learning, and society. We envision this new program as a means to bring students into contact with proven leaders who will challenge them not only to think about leading in new and creative ways but inspire them to reach beyond their current aspirations."
McKesson's course is worth one credit and begins this fall.

BET National News - Keep up to date with breaking news stories from around the nation, including headlines from the hip hop and entertainment world.
(Photo: Joe Kohen/Getty Images for LinkedIn)