'Queens Court' Star Tamar Braxton Shares An Update On When Fans Can Expect New Music
The cast of the new dating show also shares why they decided to date 21 men in their hopes of finding love.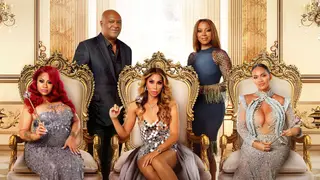 Valentine's Day may have ended, but love is still in the air.
Peacock is debuting a new reality show centered around finding love, and this time, it's with three women we know, love, and adore. Tamar Braxton, Nivea, and Basketball Wives star Evelyn Lozada are sitting pretty on their throne as 21 confident, booming, and lucky suitors vie for their attention in hopes of snagging on these ladies' hearts for good on Queens Court. The 10-episode series is produced by Will Packer and will be hosted by married couple Holly Robinson Peete and Rodney Peete.
In a conversation with BET.com, the stars of the show talk about dating in the spotlight and dating rappers, and one fills us in on when fans can expect new music.
BET.com: In the intro, Nivea says she has an addictive personality trait. What's one thing you're addicted to at this time?
Nivea: I love lemon water.
Braxton: I'm addicted to a lovely gentleman.
BET.com: Dating in the spotlight is tough, and you've been through some ups and downs. Knowing how public relationships can go, why did you decide to participate in this reality show for the world to see?
Lozada: I decided to do this show because where else can I date 21 men? I've been single for a long time, and I believe in Will Packer – after several conversations, I think they wouldn't exploit my story, which would be positive. I also like using my life as a teaching tool. Sometimes, I'm okay with being put in the fire if you can get something from it which is why I'm very open to all the things that have happened to me despite being called a liar because that's why I feel like I'm on this planet for – to inspire and teach you about my life where you can hopefully get something from it.
BET.com:  Your relationship with Vince sprouted into having a beautiful child. What did that relationship teach you, and what did you walk away with?
Braxton: The biggest thing is I was able to let go of the past and whatever past hurt I had erupted during that relationship and focus on what's important, which is my son. I've taken that lesson from that relationship onto the rest of my connections to focus on what is essential – the friendship, the lesson, or me moving forward towards my destiny.
BET.com: There are always thoughts when it comes to dating rappers. What's a piece of advice you would share with ladies currently in a relationship with one?
Nivea: This is an interesting question because, underneath it all, I'm a bit of a rapper myself [laughs]. I feel like a lot of times as creators, although I've been with other noncreators, it's nothing like being in a relationship with someone who thinks like you in most ways. If another creator comes together with another creator, it's like twin flames come together. Date within the lane of what you like in life and what you're naturally drawn to do – get someone who enjoys the same thing. If you're a rapper or like rap music, something has to tie you to them besides wanting to date a rapper.
BET.com: We've been teased, and we've been waiting. When are we getting a follow-up to Bluebird Of Happiness?
Braxton: The truth is Queens Court premieres on March 16th, which is the weekend of St. Tamar's Day, so you'll have a lot of surprises. Wait and see.
While we wait and see about Braxton's new music, tune in to see if she and the other ladies find love on Queens Court, premiering March 16th on Peacock.
---
*This interview has been edited for length and clarity
Ty Cole is a New York-based entertainment reporter and writer for BET.com who covers pop culture, music, and lifestyle. Follow his latest musings on Twitter @IamTyCole.