Buffalo Rap Collective Feels The Pain That Hit Their Community When A Terrorist Targeted Them All
Friends and family of the East Buffalo-based Griselda Records were directly affected by the supermarket massacre and are figuring how to move forward.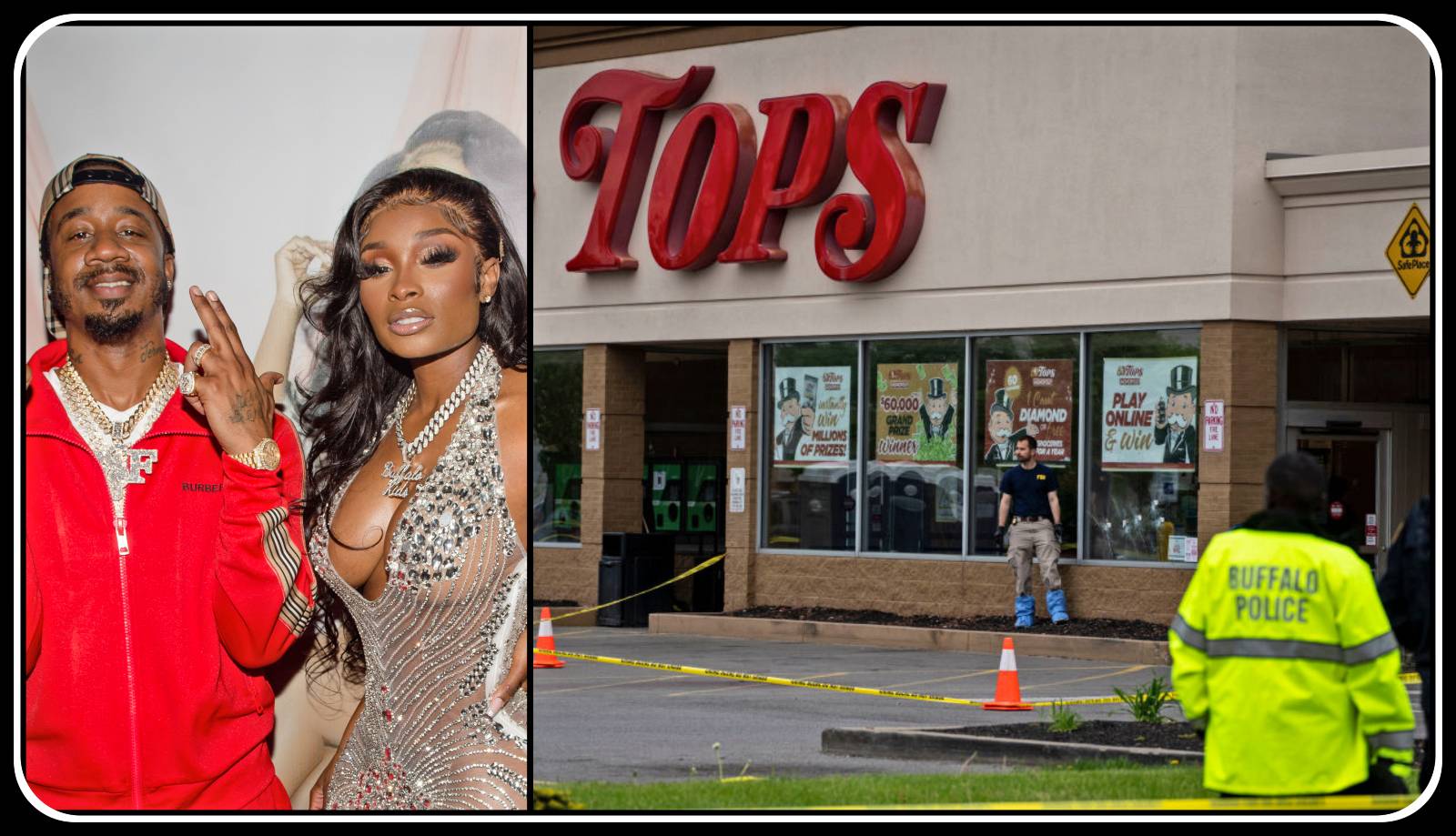 It's still very much in the minds of the residents of East Buffalo though as the Tops Friendly Market that became the target of assault rifle fire is still closed due to the police investigation currently ongoing. While donations nationwide have poured in, a shuttle from the Jefferson Avenue grocery store to other supermarkets in the Queen City has been set up, and outreach from the community has all helped, it doesn't erase the devastation left in the wake of what happened.
Not only has a community lost ten of its members – mostly elderly Black people who often shopped at the grocery store to buy food and converse with familiar faces – but it magnified the problems of food insecurity in the neighborhood as Tops is the only supermarket in the area.
The catastrophic aftermath of the May 14 mass shooting is also weighing heavily on East Buffalo's own rap collective Griselda, with members of whom are speaking out about the tragedy their community has had to endure.
Speaking with BET.com, the collective's members Benny The Butcher and Armani Caesar detailed how close the shooting cut to them with friends and family members being directly affected.
"It was disbelief. I was in the city that day. How ironic is that?" said Benny. "The more and more I moved around the city I kept hearing about it.
"The first thing you do when you hear things like that is you call and check in with your loved ones and see if everybody's alright," he added.
For Armani, her mother had been at the Tops trying to cash a check just shortly before the shooting took place. "I called my mom, she's devastated and in tears, and I'm like, 'Mom, what's going on, are you okay?'
"She was hysterical," Caesar continued. "I'm trying to calm her down and in the midst of everything, it was just a very intense situation."
According to Buffalo police, 18-year-old Payton Gendron entered the grocery store on May 14 with a military-style assault rifle and opened fire. Investigators believe he researched the local demographics and chose that particular supermarket to kill as many Black people as possible. Gendron reportedly shot 11 Blacks and two whites in total that day.
The victims ranged in age from a 20-year-old who survived a bullet through the neck and back, to the fatal shooting of an 86-year-old woman whose son is a retired Buffalo fire commissioner, the Buffalo News reports.
Citing an unnamed law enforcement official, the Associated Press said a preliminary investigation found Gendron had repeatedly visited online sites that promoted white supremacist ideologies and race-based conspiracy theories.
According to Caesar, the Tops Friendly Market was a place where the community convened, felt safe, and had access to food and employment opportunities – all of which have now been stripped.
"It's where I grew up. It's where I'm from. My whole family is from that area, and that's basically the grocery store that everybody shops at in that neighborhood," she noted. "My first job was at Tops, so it means a lot. You hear about this stuff happening but you never imagine it happening literally in your neighborhood."
Similarly, Benny has family and friends affected by the shooting. He notes that one of his close friends lost their mother and another who lost their grandmother.
"My mom shops at that store, my kids [have] been to that store, I shop at that store. It's five minutes away from the place I've got in Buffalo. That was a place that we all find ourselves at. It really hit home," he said. I've been shot before at Walmart, and that made me not want to go to Walmart after that so I know directly how something like that can make you feel psychologically."
Aaron W. Salter Jr., a 55-year-old security guard who worked at Tops, was one of the ten people killed in the mass shooting. A retired Buffalo police officer, Salter was working that day and died during a gunfire exchange with Gendron. "Today is a shock," his son, Aaron Salter III, told The Daily Beast. "I'm pretty sure he saved some lives today. He's a hero."
"My mom was really good friends with the security guard that was killed trying to stop the shooter," said Caesar. "My mother doesn't even feel safe in her own neighborhood and that's scary being that I'm not physically there to protect her. Although I am a firm believer in God as he protects me and my loved ones, it's still that uneasiness of being able to go to a place like the grocery store. Nobody's expecting that [while] going to get something to eat or to cash a check."
With Tops closed for the foreseeable future, the East Buffalo community has been scrambling to find alternative methods to feed themselves. And while temporary solutions have been installed to help residents fill the void, the trauma from the racially-motivated shooting mixed with the long term implications of food insecurity in the area have compounded an already troubling situation.
In a recent household food survey of East Buffalo by a coalition of Buffalo Food Equity Network partners, 42 percent of respondents reported food insecurity, and 45 percent of those who are food insecure do not own any vehicles to travel to other food markets in the city. According to Rebekah Williams, co-founder of the Buffalo Food Equity Network, the limited number of affordable food options is indicative of structural racism that not only Buffalo, but the United States in general, has been grappling with throughout its history.
"What that terrorist did in Buffalo is based in anti-Blackness and white supremacy, but that white supremacy is systemic racism that is not being acknowledged by our country really, and not being addressed in policy changes across the board," she told BET.com. "That shows up in food systems, that shows up in transportation, and it shows up in economic development."
Williams notes that communities of color often have less options when it comes to affordable and healthy food in comparison to wealthier, white communities. And that stark difference is purposeful.
"Unfortunately when you look at the numbers of population and demographics in the neighborhoods where there are a lot of grocery stores compared to population demographics where there are not a lot of grocery stores or no grocery stores – those are impoverished communities and those tend to be communities of color," she says. "And what we see is that's not a mistake and that's why I call it food apartheid because there is intent around it."
As for what's ahead for the East Buffalo community, both Armani and Benny say they, and Griselda Records, which also consists of mainstays Westside Gunn, Conway The Machine, and others, will be on the forefront of leading their people to more solutions, hope, and opportunity as many in the city, and nationally, look up to them. Currently on tour, the group plans to make trips back to their hometown soon as many of them still live there.
"It's just figuring out how we can be useful instead of just throwing a bunch of money at something," said The Butcher. "I know a lot of people in Buffalo giving away food. We love and respect that, but we want to do something that allows us to move forward and allows us to affect the community in the right way."
"I'm there in any way I possibly can be," Caesar added. "Anywhere I can be of service my door is open and it doesn't matter what I do. I'm always going to be there for my community because I wouldn't be who I am if it wasn't for Buffalo, New York."
Additionally, Benny notes that his message to his community will not only be one of empathy, but action and self-defense.
"My people can't keep being victims," he said. "We can't keep being victimized. Whatever we've got to do to move from that because I know [there are] laws in place and police and everything but obviously those things aren't working so how can we protect ourselves? How can we start today? There's going to be other questions and other solutions, but we got to go to the grocery store today. We still gotta eat. We can't be scared to go out, our kids still got to go to school in the middle of that, so how do we start protecting ourselves today. We've got to figure that out."
"[It] leaves more damage mentally and emotionally than it does just on the surface level. If people just think once this grocery store gets back up and running we can go back to normal. It'll never go back to normal because you just won't feel safe," Caesar added. "We'll band together and do whatever's needed for the community."