Buffalo Reacts To Texas Mass Shooting 10 Days After Experiencing Their Own Tragedy
Just 10 days after experiencing their own massacre at the hands of a white supremacist, residents ask 'Where are we safe?'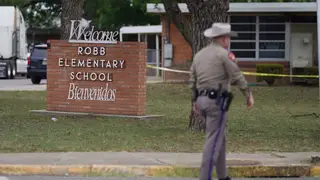 Valencia Motley told Buffalo station WKBW that this latest shooting has left her "shaking" and "nervous" after a domestic terrorist entered the Tops Friendly Markets store in Buffalo on May 14 with a military-style assault rifle and opened fire.
"Where are we safe at? We're not safe at the grocery store, we're not safe at schools," a traumatized Motley said, predicting that "another one will happen and another one will happen."
The Buffalo shooting was shocking enough, but the murder of children was chilling, Rickie Barber told WKBW.
"These are kids. They have their whole life ahead of them. They didn't even live to see 8th grade," he said, adding, "What's going on in the world that its normal to shoot somebody."
Tuesday's attack at Robb Elementary School in Uvalde was the deadliest mass shooting at a school since a gunman killed 20 children and six adults in December 2012 at Sandy Hook Elementary in Newtown, Conn., according to the Associated Press.
Authorities believe Salvador Ramos acted alone when he allegedly went from classroom to classroom on a shooting rampage, FOX News reports. A Border Patrol agent rushed to the school and killed Ramos. Officials said Ramos posted images, including a picture of a high-capacity gun magazine, to an Instagram account and messaged a woman about his plans before the shooting.
Social media was also used in the prelude to the Buffalo attack, which investigators believe was racially motivated.
The accused gunman Payton Gendron, 18, allegedly wrote and posted a manifesto that repeatedly cited the "Great Replacement" theory," which is the false belief that a secret political group is working to replace white Americans with non-white people through interracial marriage, immigration and inevitable violence, NBC News reported.
"These are the days we are living in, and it's a shame but it's a fact. And this is the result of evil," Juan Sharp told WKBW. "It just hurts your heart and your soul. It's like it's your own family."