Cleanse Your Timeline: This Senior Black Couple Goes Viral After Copping Beyoncé's New Ivy Park Collection
Eric Hart jr. took photos of the lovely couple in their home.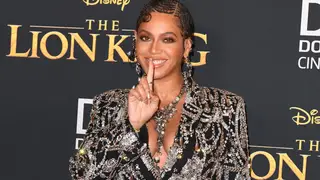 Some of us weren't lucky enough to get our hands on a piece from Beyonce's Ivy Park collection. However, NYU student and photographer Eric Hart Jr. received a trunk from the Queen herself. 
"THIS IS MY PARK 🌱 THANK YOU BEYONCÉ. i can't even begin to explain my emotions right now. if you know me you already know ... @beyonce the amount of joy and love you've brought into my life in all that you do is something that would never fit in a caption. to know that my work was something you were a fan of ... i truly can't even find the words. from the bottom of my heart, thank you ❤️ @weareivypark, read his caption. 
Well, Eric wasn't selfish with his pieces and outfitted a senior couple with pieces. He photographed the lovely couple in the Ivy Park collection, and they went viral!
The gentleman wore the hunter green tracksuit while the Mrs. posed so eloquently in the mint green blazer and pants set. They are sitting in their living room, giving us a '70's vintage vibe. Talk about stylish!