Class Act: Unforgettable Black TV & Film Teachers Who Schooled Us in Laughter and Life Lessons
May 2 is National Teachers' Day and here are our favorite fictional teachers from the big and small screen!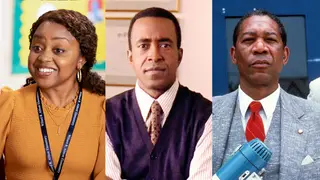 In honor of May's National Teachers' Day, we're celebrating the magic of memorable fictional characters who have captured our hearts and minds. This list pays tribute to the top Black TV and movie characters who have made a lasting impression through their wit, dedication, and passion. Get ready for a creative journey down memory lane as we explore these inspiring figures who have entertained and enlightened us in the realm of television and film.
Janine Teagues (Quinta Brunson) - Abbott Elementary

Janine Teagues, played by Quinta Brunson, is a dedicated second-grade teacher at the underfunded Abbott Elementary School. Her passion for her students, quick wit, and hilarious interactions with her fellow teachers make her a standout character in this mockumentary-style sitcom

Joe Clark (Morgan Freeman) - Lean on Me

As the no-nonsense principal of Eastside High, Joe Clark takes on the enormous task of turning around the failing school. With his tough love approach, bullhorn, and baseball bat, Clark's unique blend of authority and humor makes him a memorable character.

Lydia Grant (Debbie Allen) - Fame

Debbie Allen's portrayal of the tough yet caring dance instructor at the New York City High School for the Performing Arts is iconic. Lydia Grant's memorable catchphrase and unwavering dedication to her students make her an unforgettable character.

Mr. Duvall (Tim Meadows) - Mean Girls

As the principal of North Shore High, Mr. Duvall tries to maintain order amidst the chaos caused by the Plastics. His sassy responses to unruly students and iconic announcements make him a standout character in this classic teen comedy.

Dr. Carla P. Grier (Loretta Devine) - Boston Public

Dr. Grier, the school counselor in this popular drama series, uses her wit and wisdom to help her students navigate high school. Her funny one-liners and heartfelt advice make her an unforgettable presence on the show.