Usher Gifts Mentor L.A. Reid A Convertible Porsche For 66th Birthday
Reid has been a mentor to the "Confessions" singer since he was 14 years old.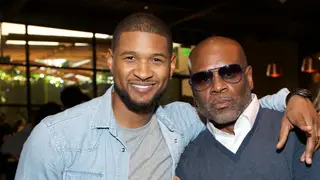 On Saturday, Usher paid his success forward with a lavish gift to his mentor L.A. Reid at his 66th birthday party.
The "My Way" singer gifted the producer-extraordinaire a new convertible Porsche 911 Carrera Cabriolet. According to TMZ, Reid had done the same for Usher in  1997 when he released his hit single "You Make Me Wanna."
Reid was all smiles and could be heard yelling as he looked at the shiny black car, 'What!?"
The OG hitmaker celebrated his birthday with 100 of his closest homies at a cookout dubbed the "Bel Air Backyard BBQ."
Singer Jacquees, T.I. and Jeezy also attended the star-studded event.
According to Auto Evolution, Reid signed Usher to L.A. Face Records when he was 14 years old. The 66-year-old mogul was an instrumental part of the Atlanta-based singer's success.
Earlier this year, Usher presented his mentor with Culture Creator's Icon Award.
"L.A. Reid has been a key figure in shaping the sound and experience of popular music for over 25 years as a record producer, a songwriter, a label executive," the "Yeah" singer expressed before presenting Reid with the award. "I've chased this man his entire [career], even when he left LaFace Records, because I really felt as though a family was being broken apart, and I was the baby of that bunch. He never gave up on me, so I never gave up on him."